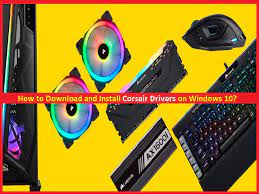 Corsair or Corsair Gaming Inc, is American computer peripherals and hardware Company which designs and sells a range of products for computers including high-speed DRAM, USB flash drives, CPU/GPU and case cooling, gaming peripherals such as keyboards or computer mice, SSDs and speakers.
Corsair Company is known for making high-performance PC components and gaming peripherals – innovative designs that provides both leading edge functionality and dependable operation. Let's take a look at Corsair Products.
Corsair Products
Corsair USB Flash Drives: Corsair Company also designs Corsair USB flash drives offer you can save your personal files in this storage device. It provides compact, ergonomic high-performance data storage and transport for on-the-go computing.
Corsair Cases: Corsair PC Cases are designed for enthusiasts who want to design high-quality Systems that perform well and look great. It provides industry-leading ease of assembly, ergonomic, cooling potential and durability.
Corsair SSDs: Corsair also designs SSD offer world-class performance, value and protection. This hardware comes with Corsair SSD Toolbox, its exclusive software for managing the Corsair SSD (Sold-State Drive) and maintaining its performance.
Corsair Gaming Mice: Corsair Company also offers Corsair gaming mice with key features including adjustable DPI, intelligent ergonomic and configurable weight Systems that allows you to play your game whether you are gaming professionally or just playing to win.
Corsair Gaming Keyboards: Corsair also designs Corsair gaming keyboards provide variety of models to match your play style, and the kinds of games you want to play and even your System's look. This keyboard can be best options for gaming which offers rubber dome or mechanical key switches, super and fast actuations.
What is iCUE? Is iCUE Software provides support every Corsair Products?
iCUE or Corsair iCUE Software is designed to connect all your Corsair iCUE compatible products together in single interface, and giving you complete control of everything from RGB lighting and powerful macros to System monitoring and cooling control.
This software provides support for every peripheral including keyboards, mice, audio, Hydro series coolers, power supplies, DRAM, Link devices and RGB fans of variety of models. You can check current iCUE compatibility for iCUE support on the Corsair official forum page.
If you have Corsair products like Corsair gaming mice, keyboards or other products (hardware) connected to your Windows 10 OS based computer, Corsair Drivers must be installed in your computer. Note that drivers for Corsair product (hardware) is essential software required communicating your Corsair hardware device with Operating System.
Without Corsair Drivers, you might face several issues in your device like RGB lighting doesn't work, Corsair mic not working, Corsair void wired not working or similar issues. So in such cases, we recommended you to download and reinstall Drivers for Corsair product in your device.
How to download and install Corsair Drivers on Windows 10?
As mentioned, iCUE (Intelligent Corsair Utility Engine) is software connect all your compatible Corsair products together and allow you to control almost everything in single interface. To download and install iCUE Software, follow the steps below.
Step 1: Open your browser and visit 'iCUE Homepage' or 'https://www.corsair.com/us/en/icue'
Step 2: Click on 'Download Now' button (Yellow button)
Step 3: You can enter email ID, first name, last name and select location and then hit 'Submit' button to start downloading. Or you can skip this by clicking 'Or Skip this step and start download' button.
Step 4: Now, double-click on 'setup file' or 'Downloaded file' and follow on-screen instructions to finish installation
Step 5: Once done, you can use Corsair iCUE Software to control Corsair devices.
If iCUE Software not opening or working:
Method 1: Locate Corsair folder in 'Program Files (x86)' in your computer hard drive and copy the whole Corsair folder to 'Program files' and then start iCUE Software from the desktop. Check if it works.
Method 2: Using above method to download and install Corsair Drivers, download its latest version. Note that don't upgrade iCUE Software from previous version means you need to uninstall the previous version and then reinstall the latest Corsair Drivers in your computer.
Rollback Corsair Drivers to previous version
After installing latest version, if you are facing problem like RGB lighting not working or similar, then you can fix this issue by rolling back your driver to previous version. To do so, at first you should try to know the current version of iCUE Software and then reinstall the previous version.
Conclusion
I am sure this article helped you to know about Corsair Products, Corsair Drivers, iCUE Software, and how to download and install drivers compatible with Corsair devices in Windows 10 computer. You can read & follow our instructions to do so. If this article really helped you, then you can share this article with others to help them. That's all. For any suggestions or queries, please write on comment box below.