Tips to add a GoFundMe link to Snapchat: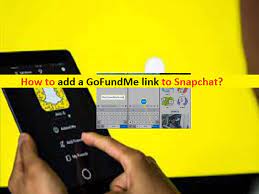 In this article, we are going to discuss on How to add a GoFundMe link to Snapchat, How to add GoFundMe to Snapchat. You will be guided with easy steps/methods to do so. Let's starts the discussion.
'GoFundMe Link': GoFundMe is American for-profit crowdfunding platform allows you to raise money for events ranging from life events such as celebrations and graduations to challenging circumstances like accidents and illnesses. Over $9 billion has been raised on platform, which contributions from over 120 million donors.
Sharing your fundraiser with your social media network like Snapchat is often the key to success on GoFundMe because the more you share, the wider the audience will be for you fundraiser. If you are not aware, Facebook, Instagram, and Twitter are the most commonly used platforms for sharing, and they are great way to get the world out.
Snapchat is another one of most popular social media network worldwide so you can share your fundraiser with your Snapchat social network for fundraiser. If you are Snapchat user and looking to ways on How to add GoFundMe to Snapchat, then you are in right place for this. Here, you are provided with easy ways to do so. Let's go for the steps.
How to add a GoFundMe link to Snapchat?
Step 1: Open 'Snapchat' app in your Android/iOS device
Step 2: Now, open your Snapchat camera and capture a photo or video
Step 3: Tap the 'Paperclip' icon at right-pane. The link attachment page will feature previously copied, select the link you desire
Step 4: If you want to add new link, either paste it in or type in URL bar before hitting 'Go' button
Step 5: Now, search the link will bring up search results from Google. Scroll down until you find what you have looking for and tap to open the link
Step 6: Now, click 'Attach to Snap' button at bottom of page. This will bring you back on your Snapchat camera screen. If the link is attached, the paperclip icon will be circled in white.
Step 7: Select the Blue Arrow to send to send the story, or as Snaphat post or Plus sign in the bottom left corner when you are ready.
Conclusion
I am sure this post helped you on How to add a GoFundMe link to Snapchat, How to add GoFundMe to Snapchat with several easy steps/methods. You can read & follow our instructions to do so. That's all. For any suggestions or queries, please write on comment box below.