Hello Dear! I've recently noticed that while trying to open my Pro Evolution Socceer 2018, error "failed to start denuvo driver error 2148204812" appears on the screen. What to do? How could I fix it? I would be grateful to you if you help me to get the fix. Thanks in advanced.
More on failed to start denuvo driver error 2148204812
"Failed to start denuvo driver error code: 2148204812" has been received by many. Usually, this error appears on Windows when user tries to launch a game such as Pro Evolution Soccer 2018 or Football Manager 2018. But, there are some users, while the number not so many, receiving the error also on regular applications.
You might confuse Denuvo Driver as a system or app component that allows better performance of certain hardware. The confusion is obvious because this is what exactly the purpose of a driver on a Windows system. However, the Denuvo Driver is actually a piece of software responsible for DRM or Digital Rights Management.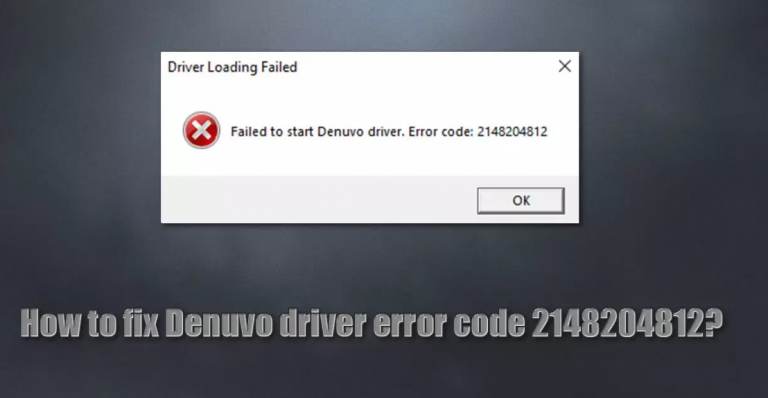 Talking about DRM, it is a type of protection measure that software developers implement so as to prevent piracy and unsolicited tempering with certain files and components of a program. The driver we were discussing above ensures its better performance. Thus, for the app to be launched and performed well, this driver is meant to be initiated as well.
If something went wrong that causes it not being launched, the users might receive failed to start denuvo driver error 2148204812 and the users would not be able to launch the game or app. The error could be because of software conflict, and in this case, uninstalling it is the required solution. In other case, there could be a sign of software privacy. This issue is reported by those using pirated software.
Special note: Users could receive the same error code with different message, namely, "A certificate was explicitly revoked by its issuer. Error code 2148204812". The reason why this error occurs differs completely, although it also indicates an incorrect verification process of a certificate within a certain app. This is a signature issuer problem and thus we are not focusing on it.
Easy fix for failed to start denuvo driver error 2148204812
If you are encountering this error message while launching a game or another app, below are the several fixes we are going to discuss that will be helpful for you. We will not include the solutions for pirated version of games as we do not support any illegal activities.
Before you proceed, once check if any system related issues are responsible for failed to start denuvo driver error 2148204812. We strongly recommend you running a full system scan using PC Repair Tool. This will fix the most common Windows issues, resolving BSODs, registry errors, and other common issues automatically.
Solution 1: Reinstall the game
You can uninstall the game or the app problematic by using a game client such as Steam or simply through the Control Panel. Using Apps and Features Section would make the process more easy:
Right-click on the Start button and select Apps and Features,
Select your game/ app from the list and click on Uninstall>Uninstall,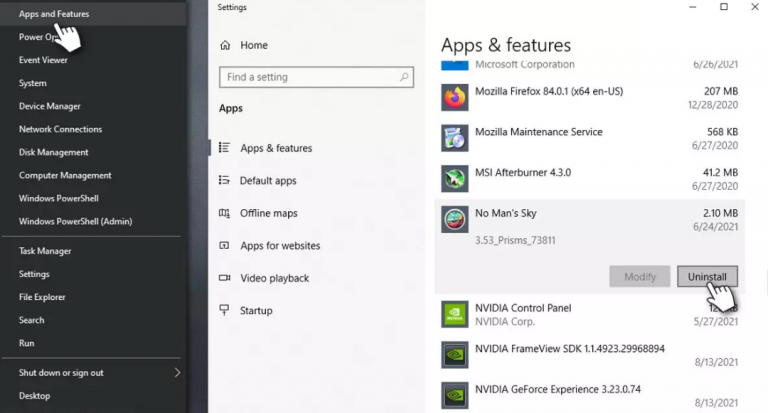 Restart the Device next and re-download and install the game/app anew.
Solutions 2: Uninstall Vanguard/Valorant
If you are receiving failed to start denuvo driver error 2148204812 on Valorant, this is the case of software conflict. Vanguard of Valorant is anti-cheat engine on the game, installed at the kernel-highest- level. It is essentially a Rootkit and therefore has been heavily criticized for security and privacy reasons. Uninstall the game and the anti-cheat fully and see if this works:
Right-click on Vanguard icon on the system tray and select Exit Vanguard,
Go to the Apps and Features and select Riot Vanguard entry there,
click on Uninstall> Uninstall next,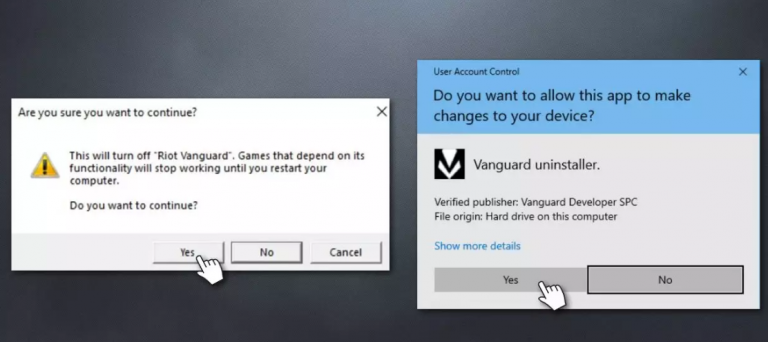 Restart the Device the then and check if the issue resolved.
Solution 3: Uninstall the latest Windows Update
 Some of the users started experiencing failed to start denuvo driver error 2148204812 soon after a Windows update. For them, it is required to uninstall the latest update. However, there is a certain limitation in it and thus it is not always possible to do so. It is also not recommended to keep the system outdated because of software vulnerabilities. Therefore, this method will not be the permanent solution:
Open Windows Search, type Control Panel and hit Enter,
Go to the Programs> Uninstall a program,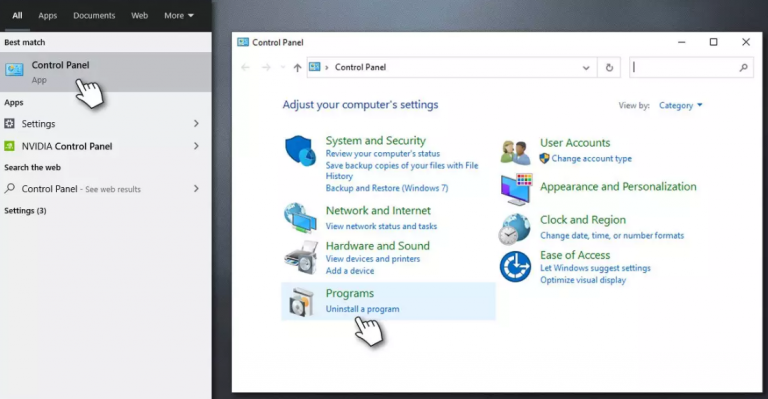 Click on View installed updates on the left,
Sort the updates by date,
Right-click on the newest installation and then select Uninstall.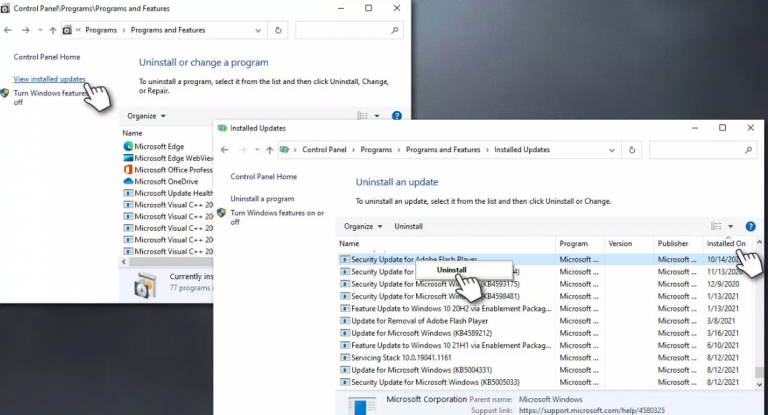 Solution 4: Contact the game/ app support
Every game has a technical support team. You could contact them using emails possibly through emails provided. Find a genuine email and write a message to the staff- probably you would be asked for the verification code/ purchase receipt to receive the help (thus this method is not for those using pirated games).
Conclusion
We have tried our best to provide you the best solutions for removing failed to start denuvo driver error 2148204812. If you don't want to struggle with these manual methods, you can use recommended tool to get automatic fix. Professionals tested and approved the tool we recommended and so just feel free to use it.
People also asked for:
Q: What is Denuvo driver?
A: Denuvo driver is software or protection tool designed & developed by Engineers to prevent piracy and uninvited tampering with specific files or components of software, and it is responsible for DMR (Digital Rights Management).
Q: Why DRM is bad for gaming?
DRM (Digital Rights Management) drains and game publisher know it. It is aggressive forms of protection can have negative effect on game experience, requiring a constant internet connection, signing into an account or software that hogs valuable system resources that could be used by the game.
Is Denuvo DRM bad?
Denuvo makes it difficult or impossible to play games without some form of internet connection. If at some point in future any part of their DRM service chain is shut down due to internet outage or company going backrupt, game will be inaccessible.
Q: How do I uninstall Denuvo driver software?
If you are uninstall Denuvo driver Software, you need to open 'Control Panel' in Windows PC via Windows Search Box and go to 'Uninstall a Program > Programs & Features', find and select 'Denuvo', and click 'Uninstall' to uninstall it and once uninstalled, restart your computer and check if the issue is resolved.
Q: Can Denuvo be cracked?
A: Because Denuvo integrates with a game's code, you can't just crack it once and call it a day. "On PC, a large proportion of games (especially the AAA games) tend to be protected for a period of time to protect the monetization of the games being launched—say six months or 12 months for example."
Q: What is Denuvo anti-cheat?
Denuvo Anti-cheat software has been now added to PlayStation 5 tools and middleware library. This program allows developers greater access to add this ubiquitous anti-cheat software to their games, which will prevent hacking and modding.