If you want to manage your Email account then there is no better option that Microsoft Outlook. The app has all the integrations and features required to access emails and manage them with ease however some users are facing This data file is associated with a mail account OST file error on their Microsoft Outlook account.
The error code is quite uncommon and rare to see and those who are facing the issue are not being able to access their data stored on their Outlook account. There are multiple reasons why this error code can be faced and some of them include logged in account issue, corrupted Outlook profile, problematic OST files or issue within internal files of Outlook application.
If you are facing the same error code then don't panic, we have listed all the possible methods and fixes required to resolve the issue in the article below.
Resolve Outlook OST Error Code
As we know that there are several require which can trigger the error code therefore you might need to follow all the methods and find the best possible solution for your case.
Method 1: Remove OST Email Account in Outlook
Outlook data files are known as OST files as they .ost as their file extension and sometimes they get bugged due to unknown reasons. If this is the case then you can resolve the issue by removing the Outlook OST email account and adding the same account again. These are the steps on how to do so:
Open Microsoft Outlook on your device.
Click on Files from top right corner.
Select Account Settings from drop down menu.
Choose the problematic account and click on it.
Now click on Remove button.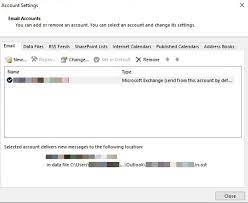 Again add the same account.
Check if the error code persists.
Method 2: Delete Outlook Profile
If the previous method does not work then it could be possible that the problem is related to Outlook profile as they can get corrupted and cause the error code to popup. To get rid of the error you will need to remove the corrupted profile and the associated OST files and then make a new profile. There are the required instructions:
Open Control Panel from Start menu.
Go to Mail section and select Show Profile.
Choose corrupted outlook profile from the list and click on Remove button.
Now click on Add button and make a new profile.
Once the profile is created, click OK to save the changes.
Close Control Panel and launch
See if the error code was resolved.
Method 3: Run Outlook Inbox Repair Tool
If you are seeing error code after making a new profile then the some corrupted OST files might be left. Fortunately, Microsoft Outlook has an Inbox repair tool which can help you to get rid of these corrupted files and resolve the issue. Follow the instructions on how to do so:
Launch Windows Explorer on your PC.
Navigate to the following directory.
C:\Program Files (x86)\Microsoft Office\root\Office19
Double click on Outlook Inbox repair tool executable file.
Click on Browser button and locate the corrupted .ost
After choosing the files, click on
Now click on Repair button to fix the error and problematic files.
Method 4: Repair Microsoft Outlook
If the internal files of Outlook are damaged or missing then you can face this error code as well and the best way to fix them is to use repair Microsoft Outlook. These are the steps required to perform the repair process:
Open Settings application by pressing Win + I key at the same time.
Click on Apps and move to Apps and Feature
Look for Microsoft Outlook from the list of applications.
Click on it and choose Modify.
Now select Online Repair and follow the procedure.
After finishing reboot your PC and check if the issue persists.
Method 5: Remove OST Files with Registry Editor
If none of the method worked then the last option left with you is to remove the OST file using Registry Editor. This method is quite complicated therefore we suggest you follow the steps carefully.
Note – Always make a backup of your registry entire before making any changes as improper modification can lead to system instability and could even brick your system.
Launch RUN dialogue box by pressing Win + R key simultaneously.
Type regedit and press
Now move to the following key.
HKEY_CURRENT_USER\Software\Microsoft\Office\16.0\Outlook\Profiles
Expand all key under this section and find Ghost Account.
After finding it, delete the key.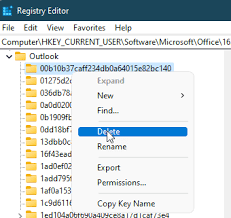 Open Outlook and create a new Profile.
Check if the error code persists.
Conclusion
Not being able to use Microsoft Outlook because of This data file is associated with a mail account OST file error can be very troublesome and inconvenient. If you facing this issue, then follow the methods and their adequate steps mentioned in the article above to resolve the issue without any hassle.