Undoubtedly, MP3, a widely used and in-demand digital audio file format, offers sound quality in an optimized mode.
As MP3 is supported by almost all online forums, websites, media players, and gadgets, people frequently look for the best online MP3 video download app.
If you are reading this post, you will also be looking for a suitable MP4 to MP3 converter to download heavy video files into MP3 format.
Let's say that today is your good day! We are here with the Snaptube app, the app that does it all, including working as an MP3 downloader converter.
So, let us first learn how to use Snaptube to download video files in MP3 format and later discuss why Snaptube is the most suitable app for you.
Table of Content

Part 1: How to Use Snaptube To Download Videos to MP3 Songs?

Part 2: Why is Snaptube the Best MP3 Downloader

Part 3: Related Queries
How to Use Snaptube to Download Videos to MP3 Songs 
Snaptube is a straightforward app. To operate this fast and simple-to-use app, you do not need to have any complex skills. Even novices can use Snaptube for MP3 video download without any hassle.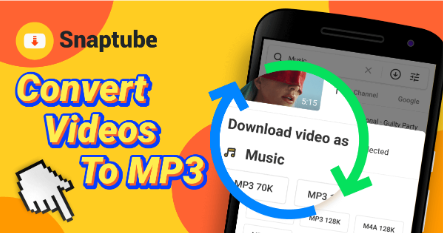 Here are the steps you need to follow to download video to MP3 using the Snaptube app.
Step 1: Download and Install the App
Firstly, open the web browser you use on your device and visit Snaptube's official website. To download the APK file and install it on your Android device, tap the yellow "Download" button.
If your device doesn't let you download programs from untrusted sources, start by going to Settings > Security. Locate and enable the "Install from Unknown Sources" option.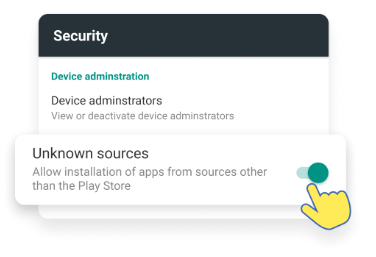 Now follow the remaining instructions. The Snaptube app will be installed on your device within minutes.
Step 2: Locate and Load the Video with Music You Want
Launch the Snaptube MP4 download songs app. You will see an interactive interface. On the top of the interface, you will find a search bar. Here type the keywords of the music you desire. You can also paste a link's URL on Snaptube to download the music from there. Another alternative is searching the available platforms to find the video song for download.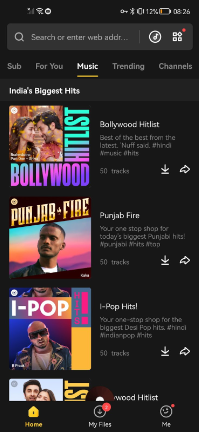 Step 3: Download It as An MP3 file 
Once you locate the pertinent results, you can simply play the media on your phone or put it into Snaptube's native player. For MP3 video song download, press the bottom-positioned download icon and choose MP3 as your desired format. Snaptube also offers other formats such as M4A and resolutions such as 160k of the media file for download.
See! How simple it was to use the Snaptube app for MP3 video download. You can access the downloaded tracks through your Music app or Snaptube's Library while offline.
You won't have any problems operating this new audio video download software on your Android device because it is easier and more competent to use.
Why is Snaptube the Best Music App for You?
By now, you must have realized how easy it is to use Snaptube as a video song download MP3 converter.
Now let us tell you a few other unique and smart features of this app.
Snaptube provides users free and unlimited access to videos and songs from over 50 online platforms, including Facebook, Instagram, Dailymotion, Soundcloud, etc.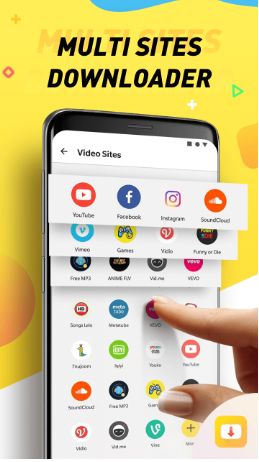 Users can browse, watch, save for later, and convert videos to MP3 in an instant using the Snaptube app.
In addition, it lets users download video song in various formats, including MP4 or MP3. There are also several options available for choosing a resolution.
While looking for the right music, users can switch between platforms without leaving the app. It also saves users time by allowing them to download music in batches.
Snaptube users can also avail the opportunity to add their preferred platform to the extensive list of platforms already available.
It has a built-in media player and "My files" option from which you can access your downloaded content anytime. You can also set the download audio file as the ringtone within the Snaptube app.
Most of all, the app does not ask for root access or a subscription. It is totally free as it has no hidden charges.
The Snaptube App – Related Question 
Which app is the best for MP3 video download?
While there are several online apps and sites, the Snaptube app is the best app for downloading MP3 video songs because it is entirely free, easy to use, and has an extensive list of supported platforms.
Is it legal to use Snaptube App to download videos and songs? 
Yes, downloading videos and music from Snaptube software is entirely legal. However, please ensure you use the downloaded content for personal use and not to earn money. Any legal infraction will result in service cancellation. Please abide by the laws in your country when using Snaptube.
How to convert videos to MP3 files using Snaptube? 
Using the Snaptube app to download videos as audio is relatively simple. Start by searching and loading the video format of the song, then click the download button located in the lower right corner of the thumbnail of the video.
Next, select "Download video as Music," then hit the download button after choosing MP3 format and bit rate. You'll get the MP3 file for a video after a few minutes on your device.
Conclusion 
As promised, we have shared with you the best app for MP3 video download. The Snaptube app stands out among other online applications due to its wide-ranging features and competency.
It is compatible with every android device and is 100% safe and legal to use because it is certified by recognized cyber security companies.
So, what are you waiting for? Visit the official Snaptube website now and download it on your device to enjoy the vast collection of videos and songs.