When we need to download random songs on our phone, most of us search for a to z MP3 songs free download for mobile. However, we get a saturated page of suggestions as a result.
It is irritating to see so many advertisements and clickbait sites. They waste our time and keep asking for money.
But you do not need to worry now! We have the perfect solution for your video and audio download needs.
This post presents you with the Snaptube app, the best app to download music to phone for free. Read the post to know why the Snaptube app is the right choice for a to z MP3 song download.
Table of Content:

Part 1: How to download music to a mobile phone using Snaptube

Part 2: Advantages of using Snaptube

Part 3: FAQs about music downloading and the Snaptube app
How to Download Music to A Mobile Phone Using Snaptube
When you use the Snaptube app, a to z MP3 songs free download for mobile becomes easy as a pie. It lets you download MP3 songs to your mobile gallery and use them as you like. Even you can set the downloaded MP3 file as your ringtone in just one click.
Not only that, through your mobile media files storage or Snaptube's library, you can access the downloaded tracks when you're offline. You won't have any problems using this fantastic app on your Android device because it is straightforward and free to use.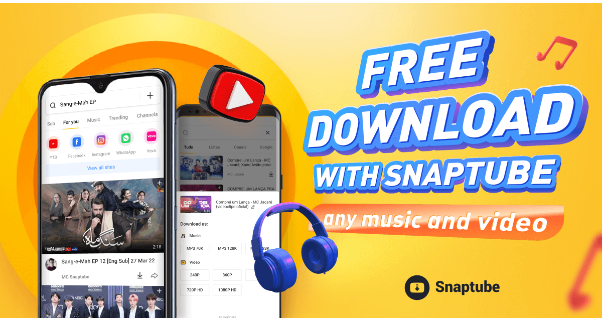 Let us tell you how to use Snaptube for 2022 MP3 songs free download.
Step 1: Download the Snaptube App 
Since this app is not listed on Playstore, you must change the download settings on your Android device to download the Snaptube app.
Visit Security under Settings, find the "Install from Unknown Sources" option under the list, and toggle it on.
Now open the Snaptube official website in your browser, click on the "Download" tab and then follow the on-screen directions.
Step 2: Find the Music You Want
Once installed, launch the app. Being a versatile platform, the Snaptube app allows you to download your preferred music in the following ways:
 – Type the keyword directly in the search bar and search for music.
 – Copy and paste the music link in the search bar and download it.
 – Use the music feature of this app to explore music.
 – Navigate to the other social apps supported by Snaptube and look for your song.
Step 3: Download the Songs 
Once you find the video version of the song that you were looking for. Click on the song to load it to Snaptube's player. Then tap the Download icon and select MP3 format for free MP3 songs download. You can also choose the required resolution of the media file.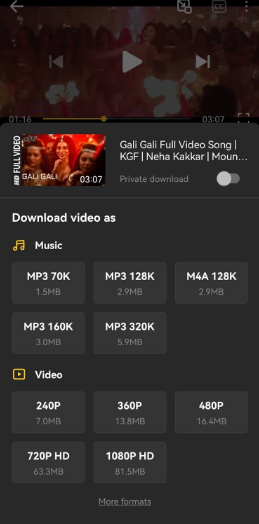 Step 4: Enjoy 
The Snaptube will download the song to your mobile within minutes. You can access the music from your mobile anytime or use Snaptube's built-in player to play the song.
Advantages of Using Snaptube on Your Android Phones
Seeing the ease of downloading an MP3 file using the Snaptube app, you will already be inclined to download this fantastic app. But your joy will know no boundaries when you learn the other advantages of using the Snaptube app.
Let us tell you why you should choose the Snaptube app for the best songs download.
Advantage 1: Supported by 50+ Platforms
Yes, you have heard it right! The Snaptube gives users access to video and audio content from over 50 famous social media platforms such as YouTube, Facebook, Instagram, etc. Users can browse, watch, and download unlimited content from these platforms.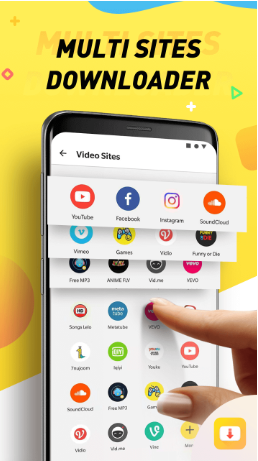 Advantage 2: Provides Extensive Features
Have you ever seen an app that does it all for its users? Snaptube has exclusive features such as a custom playlist option, picture-in-picture, and dark mode.
Advantage 3: Free and Straightforward
Totally, entirely, and completely free. Yes, this fantastic app and its extensive features are free and have no hidden cost. Even users do not need to subscribe to access Snaptube's content.
Advantage 4: Offers Different Formats and Resolutions
The app has a massive list of formats, and resolutions users can select to download, save, or convert their files. MP3, MP4, HD mode, and all such formats are available on this platform.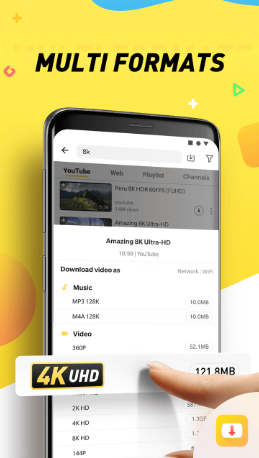 Advantage 5: Consists of a Built-in Player
It has a built-in player that the user can use to play videos and MP3 songs. The built-in player also works in the background so that users can multitask.
The list of advantages of using the Snaptube app can go on. But we want you to explore the remaining benefits of the Snaptube app yourself. So, without any worries, download the app and enjoy a to z MP3 song free download.
FAQs – The Snaptube App 
How can I download MP3 songs using the Snaptube app? 
Use the Snaptube app's interface to search for the song you want to download. The search results will display video files. You can download them in audio format using the Snaptube app. To do that, choose "Download video as Music" after clicking the video's download button, then select the MP3 format. After being automatically converted, your audio song file will be downloaded to your phone shortly.
Is Snaptube a safe app to download music? 
The Snaptube app is a safe Android application that won't harm your smartphone. You may download Snaptube APK without worrying about security because it is certified by renowned antivirus companies, including CM Security, McAfee, and Lookout Security.
Which language does the Snaptube app support? 
On Snaptube, you may find music in practically every language and genre and download an unlimited number of tracks for free.
Conclusion
Looking for a to z MP3 songs free download for mobile is a hectic and time-consuming task. However, the Snaptube app is here to make things a lot easier for you.
Not only does it allow you access to MP4 and MP3 video songs, but it also makes downloading and converting files a smooth task for you.
So, download the app today and start exploring it to enjoy its full benefits and features without any cost.