Hello everyone! In this blog we will discuss about factory reset. You might have heard about this term many times and we often use to do this on our Smartphones or laptops.  Factory Reset provides us faster, smoother and error-free working experience on our system/device. When we do factory Reset on our system there is no hang, lag and you can finish your work without any kind of interruption. But whenever we think of a reset, we get worried about our data because performing a factory reset erases all our important data from our machine. But let me tell you this write-up is not for explaining the pros of factory reset. We will also talk about Toshiba factory reset 0 not working, how do you reset a Toshiba laptop that won't turn on.
But before proceeding with the main content of this tutorial we would like to highlight the benefits of factory reset.
By performing a factory reset you can troubleshoot any issue in your laptop which is barrier in the proper functioning of your PC/Laptops.
Factory Reset is quite helpful when you have a second hand laptop/PC and you want to delete all the trash and useless data from it. After that you are free to use it without any compromise with your system memory.
If your system is not working efficiently and it is getting unresponsive then you can go for Factory Reset, it will enhance the system performance.
Now you might be thinking that factory reset is a time taking procedure. Then let me tell you are completely wrong it is the fastest process not time consuming.
The files that were pre-installed on your system at the time of purchase will be safe after the reset. But you have to back up the software and files or media which you have added later.
So that was all about the advantage of performing a factory Reset. Now we will discuss about the "Toshiba factory reset 0 not working."  So without any further ado let's get started.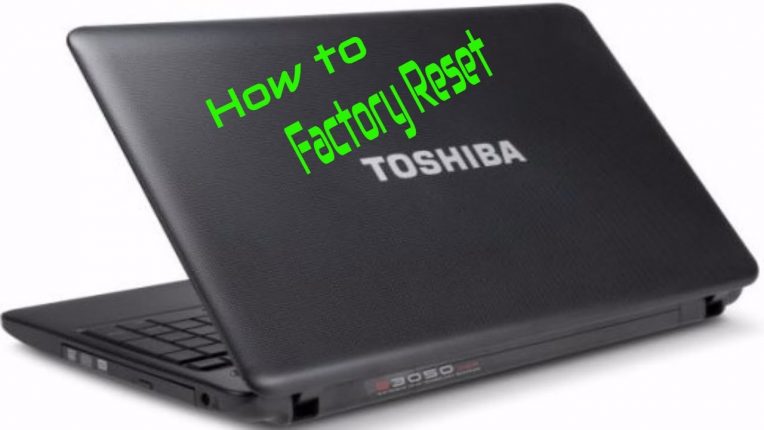 How to Reset Toshiba factory reset 0 not working
Here we will conclude how to Reset Toshiba Laptop with CD/DVD disk (0 key is unresponsive).
It happens sometimes when the 0 key becomes unresponsive just because the recover partition may have a developer lock. Hence in such scenario for resetting your Toshiba Laptop, you need to try to restore and then insert CD/DVD disc to tackle the problem.
Note: Performing a System Restore will only restores your system to some point earlier, which not a proper ay of resetting , so you can try the below mention method to perform factory reset with CD/DVD disc.
First of all insert Recovery Disc into CD/DVD drive o your system>the hold the power button in order to for few seconds to switch of your system.
After that press and hold C key >click on power button one time to switch on your computer
Once the Toshiba scree appears release C key>choose 32 bit or 64 bit OS based on your machine and "Next" to enter the "Warning Screen" then "Yes" to continue the system recovery
In order to factory reset your Toshiba Laptop: select "Recovery of Factory Default Software" under the pop up Window>" Next," after that "Recover to out of box State"> "Next"> Then read and acknowledge warning screen> 'Next" to restore laptop to factory settings.
Note: Your machine will reboots multiple time so you need to wait patiently.
How do you reset a Toshiba laptop that won't turn on? (Windows XP, Windows 7)
You can follow the below mention guidelines for performing a factory reset:
As we have earlier mentioned in this article that resetting your system will erase all your data. So we suggest you to back up your data at a safe place.
Then you need to shut down your Toshiba Laptop from the Windows start menu properly
Disconnect all external devices like speakers, USB drive, mouse, keyboards connected with your machine.
Ensure that your machine is connected with an AC power adaptor
Press the Power button to start your Toshiba Laptop> then press and hold "0" key on the laptop until a message is prompted on your screen showing warning.  Once the warning message prompted on your screen you can release (0) keys.
A window will be prompted asking for entering the OS>select the one which you are presently using.
You will receive a warning stating that you will lose all your data after resetting > press "Yes" to proceed.
You will be offered with some options from the Toshiba Recovery Wizard like: "Erase the Hard Disk", "Recovery of Factory Default Software." You need to tap on "Recovery of Factory Default Software" which is the option for factory resetting your laptop. You can also go for other option according to your preferences but kindly investigate the other options before you use them.
Your laptop will asks for different settings, you need to follow the on-screen instructions to complete the factory reset process.
The time taken in finishing the process will depend upon your Toshiba laptop's OS, the hard disk, memory and many more. Once the process is finished your machine will restarts automatically.
Follow the guidelines to perform a Factory Reset on Windows 10 (Applicable for all the laptop and PC brands such as Dell, HP, ASUS and so on.)
First of all open the Start menu>search for Reset>select Reset This PC
Then under the Reset This PC, at the top of Window, tap on Get Started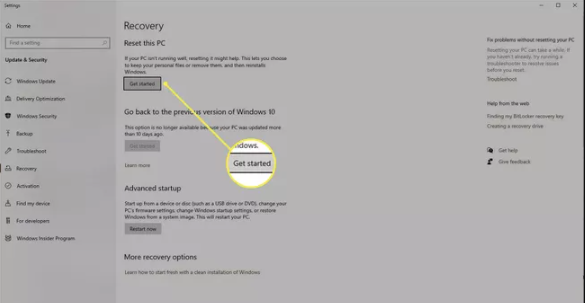 Choose between (Keep my files) or (Remove everything) >follow the on-screen instructions to complete the process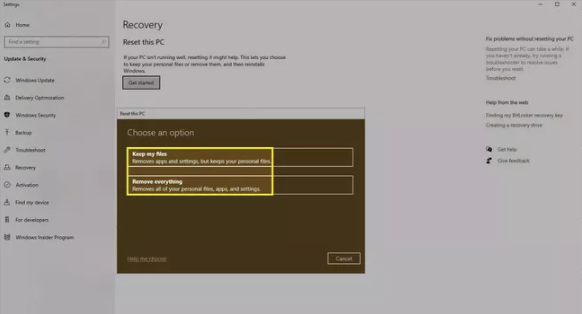 The above process will take some time depending upon your choices> once done your Laptop will restart
When the process is completed, follow the on-screen instructions in order to set up a fresh Windows installation.
Bottom Line
That's all about how do you reset a Toshiba laptop that won't turn on & Toshiba factory reset 0 not working.  In this article I have provide ample information regarding the above. Now it's your turn to follow the guidelines. I really hope that the article was helpful for you.
Additionally, if you are facing various system malfunctioning like BSOD errors, DDL errors or corrupted System files and fed up of surfing the net for resolution. Then we highly recommend you an Advanced Repair Tool. This tool will ix all your issues I a single go and will surely enhance your PC/Laptop performance.
Apart from this, do write us about your queries and concerns regarding this post on our Facebook and Twitter Page. Thanks for Reading.