If you are facing zipped folder invalid error on your PCs, then there are several things you can do as explained in the article below. This article will give you several reasons for this issue as well as you will get some recommended solution to solve it.
Zipped folder meaning
Zipped files or compressed files takes less storage space and can be transferred to other computers more quickly than unzipped files. Since, zipped files & folder work in same way in Windows OS based computer that you work with uncompressed files & folders. Zipped folder is single folder which stores combination of several files & folders of your computer which is more easily share a group of files.
To compress files & folders, you have numerous of file extensions including .zip, .rar, .7z, .cab and many other extensions which helps you to stores the your personal files & folders in single folder in much less memory size. You need to take advantage of specific programs created to compress and decompress files i.e., WinRar, WinZip and 7zip are one of the famous programs for it.
Reasons behind zipped folder invalid error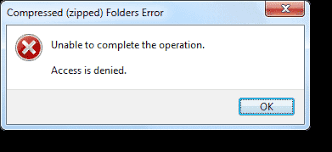 If you have canceled the process to compressed files or zip files before fully finished, then it might possible to get this error on your PCs.
It might possible that path structure of files has exceeded the 260 character limit on Windows.
If combination of files you are selected to make zip folder or files, then you must sure that all the files are malware-free because infected files might cause serious problems and drops zipped folder invalid error as well on your computer.
Ways to fix zipped folder invalid error
Procedure 1: Extract the package into Temp Folder
Step 1: Press Window + R from keyboard and type %Temp% in box, and then press enter key
Step 2: Now, Drag the archived or zipped files into Temp Folder
Step 3: After that, right click on file and select Extract to….. In the location that you want and check if the problem is resolved.
Procedure 2: Ensure that the characters cannot be used in compressed file name
As per rule, some characters or symbols are not allowed when compressing files. So, you must sure that your files does not contain symbols like '@', '♥', '§', '£' and similar. In that case, you have some files' name with such symbols, and then you must rename your files first. Since, the same symbols are not permitted by Windows OS as well. So, you should always check for such characters that cannot be used in compressed names.
Procedure 3: Fix zipped folder invalid error with Command Prompt
Step 1: Press Window + X key from keyboard and select Command Prompt as Administrator
Step 2: Now, change the directory to folder where the corrupted Zip file is located
Step 3: Type C:\Program Files\WinZip\wzzip" -yf zipfile.zip on command line and press enter key.
Procedure 4: Re-install current archive software or Use Alternative Compression software
Step 1: At first, you need uninstall current archive program. Click on Start button and search or go for Control Panel
Step 2: Now, Click on Programs > Uninstall a Program
Step 3: Find the compressor software and right click on it, and then select Uninstall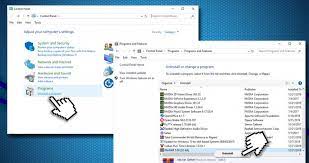 Step 4: Wait to complete the uninstall process. After that, re-install it and check if the problem is resolved.
Note: In that case your archive software not working, you can download alternative tool WinRar, FreeArc, ZipGenius, PowerArchiver, Zipeg, Info-Zip, WinAce, WinZip and many others.
Procedure 5: Temporary disables Windows Firewall or security software
Step 1: Press Window + R key from keyboard and type Firewall.cpl, and then press enter key
Step 2: Now, click on Turn Windows Firewall On or Off option
Step 3: Select Turn Off Windows Firewall under Private Network setting repeat this step for Public Network setting
Step 4: Finally, click on OK. (You must Turn On Firewall setting, once the issue will be resolve)
Procedure 6: To fix zipped folder invalid error, scan the file for malware
You should to know about malware which might steal your crucial & confidential information, lock up your files, record keystrokes, mine cryptocurrency using your System resources and also cause various types of error messages. When we talk about .zip, .rar and other similar compressed files, these fires are known to be spreading harmful malware.
Cyber security experts are always advices the users being careful with compressed files. So, you should scan your all files immediately with very powerful antivirus software to remove all malware or spyware from System. You can download Reimage and thoroughly scan your device.
Conclusion
I am sure this article helped you to fix zipped folder invalid error with several easy methods. You can use either one or all procedure to solve the issue as per System requirement. You should always Turn on your security software which helps you to detect or delete unwanted programs from your System and always scan your computer within regular time period.
Is Your PC Behaving Abnormal & Needs Instant Optimization?

We recommend you to choose Reimage PC Repair Suite which is dedicated to offer complete options to optimize a PC, fix any Windows error, and remove malware threats in easy. The software is award winning and suggested as the best malware fix application supporting all Windows versions including XP/Vista/7/8/8.1/10. Just 3 steps to avail error free PC.
Download Reimage PC Repair and install on your PC. (Follow all on screen instructions when installer is executed)
Click "Scan Your PC" button to scan all present issues, errors, junk files, and malware threats.
Finally, click "Start Repair" to fix all detected problems in next few minutes.