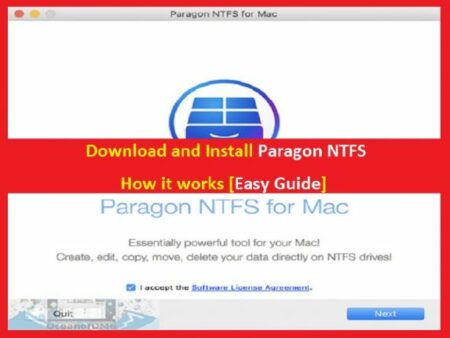 "Paragon NTFS for Mac" is designed to solve the communication problems between Windows OS and macOS. It allows you to read & write, edit, copy, move and delete files on NTFS volumes from your Mac. With "Paragon NTFS", you will be able to perform the most common NTFS volumes operations like mount, unmount and verify.
If want to work with Windows 10 on your macOS computer, and need to read or write files from hard drives or flash drivers formatted under Microsoft Windows, then you can use "Paragon NTFS for Mac". This will allow you to mount, unmount, verify, format or set any of your Microsoft NTFS volumes as "Startup Drive".
"Paragon NTFS" offers blazing fast, unlimited read/write access to Microsoft NTFS hard drives or flash drives formatted under Microsoft Windows computer.
Features of Paragon NTFS:
Paragon NTFS is familiar interface similar to Apple's Disk Utility
The transfer rate is same as with the native HFS file System
Menu bar add-on that gives you 1-click
Enable ownership and specify which users are allowed to access each newly-create file or folder along with their read, write and execute privileges
Paragon NTFS for Mac saves last access time if you need macOS to recall every file you access on a selected NTFS volume
Enable "Spotlight indexing" if you want instant spotlight search. Paragon NTFS also offers you to view the detailed information about volume used space like how much space is occupied by applications, photos, music, videos, etc
Mount in read-only if you need to access sensitive data without modifying any files
Don't mound automatically if you want to manually control access to NTFS volume.
Supported Operating Systems: macOS Big Sur, macOS Catalina, macOS Mojave, macOS High Sierra, macOS Sierra
Supported file Systems: All Microsoft NTFS are supported including from Windows NT 3.1 to Windows 10.
Moreover, "Paragon NTFS for Mac" is fully compatible with "Apple Boot Camp Software" and offers direct read/write access to Mac platforms from Windows installed on Boot Camp. This software is also compatible with popular virtualization and encryption applications including VMware Fusion, Workstation, Parallels Desktop, TrueCrypt and its forks.
How Paragon NTFS for Mac works?
Step 1: At first, you need to download and install "Microsoft Paragon NTFS for Mac" from "Paragon-software Official website" and save the setup file in machine
Step 2: Double-click on "setup file" or "Downloaded file" and follow on-screen instructions to installation the "Paragon NTFS"
Step 3: Restart your computer and connect Microsoft NTFS volumes to your Mac computer
Step 4: After restart, NTFS volumes connected to your Mac are available in the "Finder" application. Now, you are eligible to perform the most common volume operations like mount, unmount and verify.
Conclusion
I am sure this article helped you to known about "Paragon NTFS for Mac" and how it works. This software is compatible with Apple's new security policy which ensuring fast and safe access to NTFS volumes from macOS 10.12 Sierra. If this article really helped you, then you can share this article with others to help them. For any suggestions or queries, please write on comment box below.