If you are try to connect your monitor, SD/Micro SD card, Network Adapters/WiFi, webcam and other supported devices to your PC/laptop using J5create Docking Station, then you should make sure that you have "J5create driver" properly installed in your device. If you are unaware, driver software is essential components in your computer to communicate hardware device connected your computer and Operating System installed.
For example, if you have laptop based on Windows 10 Operating System and trying connects USB monitor to laptop using J5create USB Type-C port on docking station, then J5create driver for Windows 10 must be installed according to your docking station model and Operating System version.
About J5create and J5create Docking station:
"J5create" is one of most popular brands design computer accessory which are built on high-performance innovation. Primarily, the company focuses on designing & developing USB peripheral solutions that maximize a computer's capability. Now, the company has multiple offices across the world with multiple retailers, and offers its products via many channels.
J5create Company has already tried to remove the barrier between different devices and Operating Systems so they can work together using 'Docking Station'. On other hand, J5create USB 3.0 Wormable Docking station released by company had won the 2012 CES Innovations Award and 2012 Computex Best Choice Award in year 2012.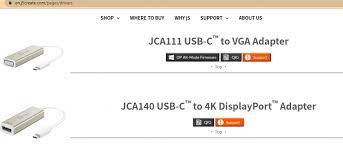 'J5create Docking Station' is Gigabit Ethernet port that allows you to access to the internet/network using wired connection for fast communication. It offers USB Type-C triple docking station that allows you to share your laptop screen on up to three 4k monitors, which giving you as much as 100W of pass-through charging power.
If you are unaware, USB Type-C is new technology for connecting PCs and laptops which replace all USB cables and connectors now in use. This new technology is already available on laptops, smartphones and mobile devices that has released after this new innovation.
J5create Docking Station Features:
In terms of 'Compatibility', J5create Docking Stations are compatible with most of the laptops based on Windows OS and macOS, and which contain USB Type-C port. These docking stations support USB Type-C upstream charging that offers you can charge your laptop/notebook or Smartphone using supported adapters.
J5create Docking Station also features outputs for DisplayPort, VGA and HDMI that allow you to connect your device to HDTV or high-definition monitor. Apart from that, this docking station also includes USB 3.1 Generation Type-A, with the transfer speed of up to 5GBPS and enable USB device charging also.
This connector device also comes with 'Combo Audio Jack' offers you can connect your earphones, speakers or microphones. You can also insert SD and Micro SD card Reader as external storage device to docking station.
J5create driver must be installed:
 If you are trying to connect external monitor to your laptop by plugging USB cable to J5create docking station, your external monitor is unable to display, then problem with monitor driver or display adapter driver is one of the core reasons behind this. In this case, you need to update or reinstall the display adapter driver.
On other hand, it is also possible that your display driver is up-to-date but you have missed to restart your device after installing the update so the problem is occurring. So, you can fix this issue by just restarting your computer and check if the problem is resolved.
Also, you should make sure that J5create driver for the device you connected to your docking station is installed. If it is already installed but still you are facing problem, then it might possible that compatibility issue with your device driver cause the trouble. So in this case, you need to update or reinstall J5create driver. If not installed, you can read & follow the instructions to below to download and install the driver.
How to download and install J5create driver on Windows Device?
Step 1: At first, you need to visit "J5create official website" or "https://en.j5create.com/" and go to "Download and Driver" sections
Step 2: Select the 'J5create driver for Windows' button for your device and download the driver in your device
Step 3: Now, locate the downloaded file or 'setup file' in your computer hard drive, right-click on it and select "Run as Administrator"
Step 4: Follow on-screen instructions to finish the installation
Step 5: Once done, restart your computer and then plug the display adapter into USB port directly to computer
Step 6: Then connect the video cable into the video output port on J5create docking station or adapter and into the video input on the display.
Step 7: Now, power ON the display and ensure that display is properly connected on VGA, DVI or HDMI port.
Step 8: This way, your display adapter is connected to docking station and the display should now be ready to use.
Note: Similarly, you can download and install the J5create driver for Mac device using same steps mentioned above, but here you need to download the driver for Mac.
Check if J5create driver is blocked on Mac
After installing the device driver on macOS, you should try to check if driver has been blocked or not.
Step 1: Open "System Preferences > System & Security > General" to determine if the kernel extensions for our drive was blocked
Step: 2 If blocked, you may see the messages like "System software from developer 'Magic Control Technology Corp'", 'WEL LU SU' and/or 'Philip Jordan' was blocked form loading. So, you need to select "Allow" option to enable the drivers
Step 3: After that, click on "Apple Menu" and select "Shut down"
Step 4: After few seconds, press "Power" button to turn your computer ON, and check if the problem is resolved.
Conclusion
I hope this article helped you to know about 'J5create', 'J5create Docking Station', and how to download and install J5create driver in your Windows/Mac. You can read & follow our instructions to do so. For any suggestions or queries, please write on comment box below.