In this post, we are going to discuss on How to download and install Kindle Driver in Windows 10 and this way, you can work with your Amazon's Kindle Device in your computer if problem related to driver occurred. Let's start the discussion.
What is Kindle Driver in Windows 10?
Driver for Amazon's Kindle Device (hardware) is required software to communicate your Kindle device with your Operating System installed in your computer. If you are unaware, Amazon's Kindle is e-book reader device can be used to browse, purchase, and download various e-books, magazines, and other reading materials.
If you want to use Amazon's Kindle – ebook reader device on Windows 10 OS based computer, not only you need to connect it into USB port of computer but also need a Kindle Driver that is to be installed in your computer.
Without driver for Amazon's Kindle device, you can't access your Kindle Device in your computer means this device can't be functioned or responded, and even its driver won't showing in 'Device Manager'. In such case, you need to download the latest driver for Kindle device according to your Windows OS version and then install into your computer.
Updating Kindle Driver to latest driver version can fix any bugs with Amazon's Kindle Device connected to Windows 10 computer, and enhance performances also. So if you are facing any problem with Kindle device, then driver update is necessary.
How to download and install Kindle Driver in Windows 10?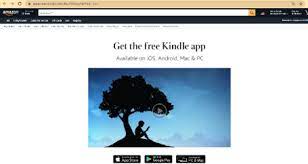 Step 1: Open your browser and visit 'Amazon Kindle App Download Page' (Official)
Step 2: Scroll down to see 'Downloads For PC & Mac' button/link, click on it to start downloading Kindle App for your PC. Note that this Kindle app includes drivers for Amazon Kindle device and which will be automatically installs upon successfully installation of Kindle app.
Step 3: Once downloaded, double-click on 'Setup file' or 'Downloaded file' and follow on-screen instructions to finish installation.
Step 4: Once done, please check if Amazon Kindle device works in your Windows computer.
How to update Kindle Driver in Windows 10?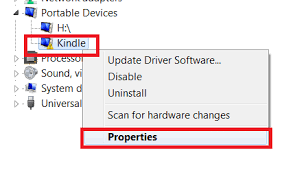 If Kindle device is not showing in 'Device Manager' or found that it is outdated, then Kindle Driver update is necessary.
Step 1: Press 'Windows + X' keys together from keyboard and select 'Device Manager'
Step 2: In the opened 'Device Manager', locate and expand 'Portable' devices category
Step 3: Right-click on your Kindle or MTP device and select 'Update Driver Software…'
Step 4: Select 'Browse my computer for driver software > Let me pick from a list of device drivers on my computer'
Step 5: check 'Show compatible hardware' checkbox, and right model will list. Select 'MTP USB Device' and hit 'Next' button
Step 6: Click on 'Yes' on the warning window and start installing update. This will install compatible device driver for your Amazon Kindle.
Conclusion
I am sure this post helped you on How to download or reinstall Kindle Driver update in Windows 10 with easy steps. You can read & follow our instructions to do so. That's all. For any suggestions or queries, please write on comment box below.