A fail fast exception is a common error message encountered by the users when they boot their Windows 10/11, they claims that the computer boots to the desktop deprived of any thumbnails or icons and pops up the below mention error mention
   Explorer.exe – Fail Fast Exception

A fail fast exception occurred. Exception handlers will not be invoked and the process will be terminated immediately.
Additionally they also state that the taskbar becomes unresponsive.
Note: The above error also occurs with another .exe file.
What is mean by Fail Fast Exception?
Unlike other exception codes, Fail Fast Exceptions bypass all the exception handler .Basically it's a type of Exception made by User Mode applications.
It's not a big deal to face such kinds of issues on Windows 10/11.Users need to stay calm because the error can be troubleshooted in a quite easy manner.
We have enlisted few of the troubleshoot methods in order to get rid of the" A fail fast exception occurred windows 10"
Method 1: Restart the File Explorer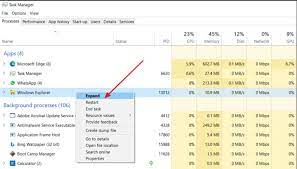 The above mention solution demands you to restart File Explorer. To do so follow the below mention steps:
First of all, Open the Task Manager
Then locate exe
Finally Right-Click on it >then Select Restart
Method 2: Try to Run SFC and DISM scan
You can also resolve the issue by running the SFC (System File Checker) and DISM (Deployment Image Servicing and Management) scan. Most of the users have claim success after applying the method. Hence it is suggested to try this fix.
Method 3: Run CHKDSK
It is advised to run CHKDSK for the complete repair of system drive. A bad segment of system drive may ruin a lot of things for you. As we all know that System Drive is one of the major parts of a system which contains system Partition.
Method 4: Disable the Fast Startup
May be few of you know that Fast Startup is a feature in Windows which has been built to help the user in fastening the Startup after they shutdown their PC. You must know that when a user shutdown the system, instead of a complete shutdown, your PC enters to a hibernation state.
Hence it is demanded to disable Fast Startup and check whether the issue persists.
Method 5: Troubleshoot the Program Conflicts
Sometimes it happens when the program conflicts with the other installed software in such scenario one can end up with the above situation. In order to classify the problematic software, it is suggested to troubleshoot the problem in Clean Boot State.
Method 6: Perform a System Restore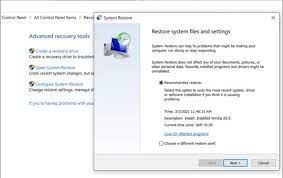 You can follow the below mention instructions to do System Restore
On your Keyboard, Press Windows key + R key to open Run dialog
In the appeared box , type in rstrui and press Enter to open up System Restore Wizard
Tap on Next to go to the Next Window when you reached at preliminary screen of System Restore
In the next step, simply start by checking box related with Show more restore points
Once done , choose a point that has an older time than one in which you earlier started to observing the issue
Press Next to advance to next menu
Tap Finish and check at the final pop up
Method 7: Run the Program in Compatibility Mode
This has been proved a worthy fix because a number of users claim success when they applied the same. Hence kindly try to run program in Compatibility Mode.
Method 8: Uninstall and then Re-install the program
The method demands you to first uninstall the application using the third-party uninstaller from your Windows PC. Once done with the uninstallation then Re-install it.
Final thoughts on a fail fast exception occurred windows 10
That's all about a fail fast exception occurred windows 10. All the above enlisted methods are worthy enough to resolve the error. I hope by the end of this blog you will find a suitable fix.
But unfortunately you failed to do so then don't panic. It simply means that your PC needs help because the above listed methods are tested and they have a capability to get past the error. And if you are still struggling then kindly go for a PC Repair Tool. This tool will not only enhance your system performance but will prevent you from several critical errors like BSOD, DDL errors, and many more.
Lastly, if you have any queries and concerns regarding the same do write us on our Facebook and Twitter page.