When it comes to "Tablet" category, most of the techies choose Amazon Kindle fire tablet as it offers so many excellent features and is priced at a very reasonable price-tag. It is one of the top selling Amazon tablet model.
Like any other tech device, issues come with this as well. On the online forums, one query that is very common is related to amazon fire tablet black screen. The situation is somewhat similar that your Amazon Fire is unable to boot or won't start.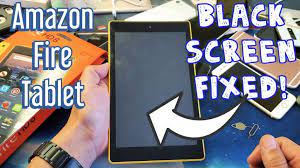 In this article, we are discussing some steps which could fix this problem. Hopefully, the device will get fully functional once again.
Probably the black screen is caused because it is not properly booted or "ON". So, hold the "Power" button for at least 5 seconds so that the tablet gets power on smoothly.
Sometime the black screen is caused because the tablet is not charged. It is advised that you charge your tablet with its original AC adapter. Directly get it charged by plugging it to the wall outlet rather than using any other device such as computer or laptop. Connect the table with wall outlet and wait for at least 15 minutes.
Simultaneously Press "Volume Down" while Powering On
This step may not work for everybody but I have read on Amazon forums that this step has helped many to fix this problem. Hold the volume down button for few second while pressing the power button. If fortunate, the device will boot successfully.
Restore the latest software
There is a simple process to restore the latest software for Amazon fire tablet. Follow the steps mentioned below.
Turn on the tablet by pressing "Power" button for 45 seconds and simultaneously press and hold "Volume Up" button.
Continue pressing the "Volume up" button until the message appears on the screen that says "Installing the latest software".
 The installation will get completed in few minutes. Hopefully this fixes the Amazon fire tablet black screen issues and you can enjoy the device without any disruption.