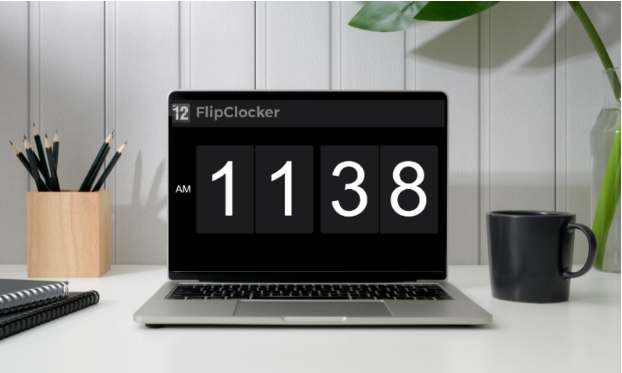 Time is one of the most significant wealth for everyone because time is money. Learning time management skills is not enough for improving your productivity. You also need some practical tools to help you be organized. 
There are lots of apps that can help us manage our work and life. And one of them is Flip Clocker, a simple desktop clock to display time and convert time. In this article, we will take a closer look at this app, including its interface, functionality, features, and benefits. 
What is Flip Clocker?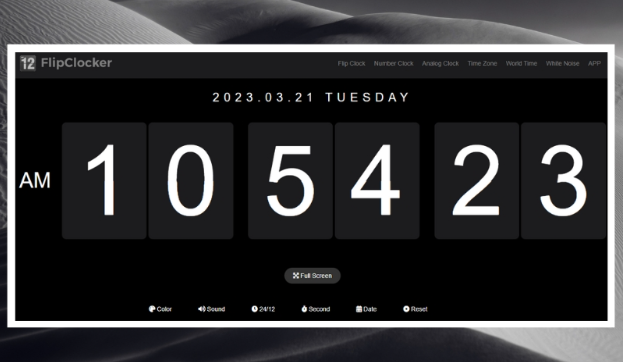 Flip Clocker is a free clock screensaver designed for the web and Mac that provides a simple and elegant way to display time with flipping animations. It also offers features for users to convert time zones, check world time, and track time for some specific activities. It works as a wallpaper that displays your local time with a neat and athletic design. There are many clock styles for your selection, such as Flip Clock, analog clock, and number clock. You can also create a personalized clock wallpaper with its built-in customization features. 
How does a Flip Clock Work?
A flip clock, a split-flap display, uses cards with numbers printed to display the time. The numbers are arranged on a set of rotating cards, and when the time changes, the cards turn to show the new time. Flip Clocker simulates this mechanism on your screen to create an interactive and eye-catching clock.
It also offers an analog clock for you to choose from. Once selecting this clock style, you will see a time display with a vintage wall clock on the screen. You can see the hands on the dial animating as they turn.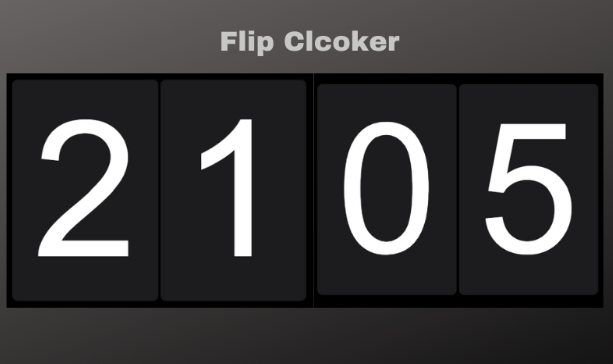 Why use a Flip Clock as wallpaper?
Setting a Flip Clock as your desktop clock or wallpaper when working with your computer is fantastic. Firstly, It can display time in an easy-to-read format and eliminate checking time frequently on your phone. Secondly, it offers useful features like countdown and timing tools to help you manage your time effectively. 
Moreover, it can be used as a white noise player while displaying time. This feature can promote your sleep well.
Last but not least. This high-quality desktop clock is free to use. Whether using it online or on your computer, you don't need to pay for it.
Flip Clocker Interface Introduction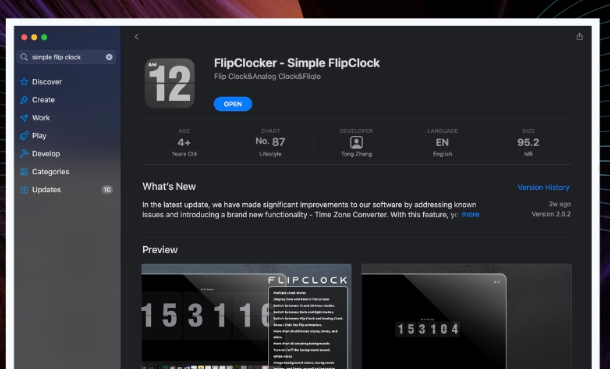 Flip Clocker's interface is straightforward to use. It displays the current time in a flip clock style, separating the hours, minutes, and seconds into different card columns. The background is customizable, and you can choose various colors and patterns to match your preferences.
Here are the main functions of Flip Clocker: 
Flip Clock: Display the time with classic flipping animations.

Number Clock: Show time using Roman numerals without animations.

Analog Clock: Display the time in a vintage and retro clock style.

Time Zone: Convert the time zone according to your local time.

World Time: Manage world time on one page without leaving the website.

White Noise: Choose from over ten beautiful sounds to calm you down.

Color: Change the clock's background color to suit your style.

Sound: Add sound effects to a flip or an analog clock.

24/12: Choose between two different formats of time display.

Second: Show or hide seconds in the clock display.

Date: Show or hide date information on the screen.

Reset: Keep your time updated and accurate.
How to Set FlipClocker as Clock Screensaver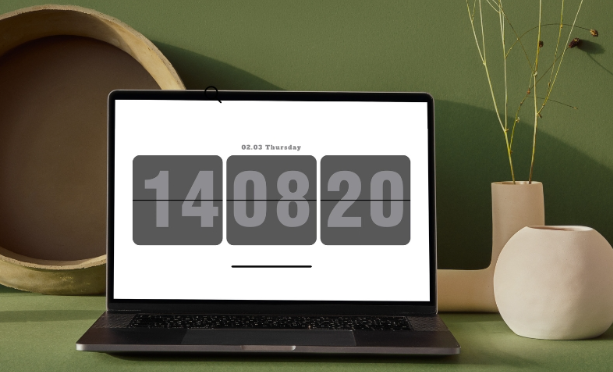 To use Flip Clocker on your browser is simple. Open the app's website and click the "Full Screen" button to apply it as clock wallpaper. You can also try the features mentioned earlier to customize the screen to fit your requirements. 
If you want to apply the app on your computer, follow these steps to get started: 
Download Flip Clocker from the App Store or the App page of the website. 

Install the app and launch it on Mac. 

Set it as a desktop clock that displays time in full-screen mode. 

Choose the color and pattern of the background. 

Adjust some features to match your styles, such as the font, text, time display mode, and sound. 

Turn on the "Auto-lock" button and make the flip clocker as your lock screen saver. 

You can upgrade to a lifetime plan to enjoy more cool features. After upgrading, you can unlock more clock styles.  
What can we do with a clock app?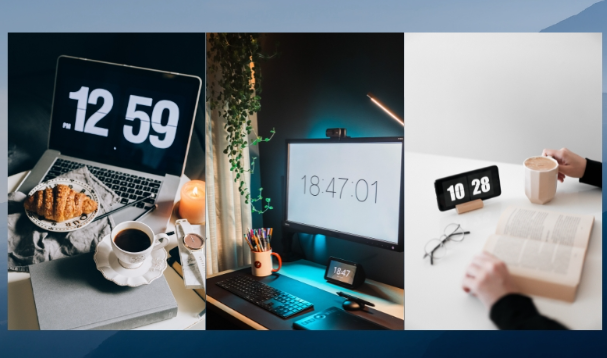 Apart from keeping track of time, a clock app like Flip Clocker can be used as a reminder, stopwatch, timer, and white noise player. It is also helpful for time management, scheduling, and planning.
Here are some uses of FlipClocker: 
Decorate your browser windows or computer desktop with animated clock wallpapers. 

Display time in an easy-to-read format and help you manage your time conveniently. 

Be a great addition to your workspace aesthetic. With a clock wallpaper like Flip Clocker, you can create a cohesive and visually pleasing environment that can help boost your productivity and motivation.

Play the role of a beautiful background. With a clock wallpaper, you can snap a photo of your workspace anytime, with a simple and beautiful clock as the background. 
Flip Clocker Pros and Cons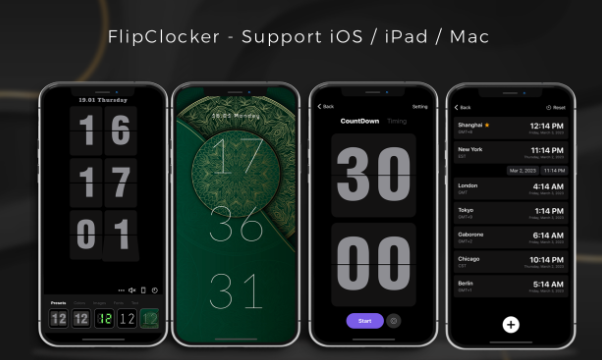 Like any app, Flip Clocker has its pros and cons.
Pros:
Minimalistic and aesthetic design. 

Customizable background, font, text color, and sound. 

User-friendly: it is easy to use for everyone. 

Displays the time without being intrusive. 

Support switch between different time modes. 
Cons:
Limited functionality: It doesn't offer many features beyond displaying the time. 

Only available for web and Mac, not available for Windows users. 
Flip Clocker Frequently Asked Questions 
Can I Use This Clock Wallpaper for Free  
Flip Clocker can be used as a clock wallpaper without any cost. Whether you access it through the web or your Mac, paying for its service is unnecessary. However, if you decide to opt for a lifetime plan, it will cost you $7.99. Remember, though, that payment is optional and only necessary if you require additional features beyond the basic ones that are already available.
Can I set the Flip Clocker as My iPhone's Lock Screen? 
Apple only allows users to set their lock screen wallpaper from a limited selection of built-in options or their photos. Third-party apps like Flip Clocker are not permitted to override this functionality. 
However, you can still enjoy Flip Clocker by setting it as a full-screen flip clock on your iPhone's home screen. The best part? It offers an auto-lock feature that keeps your screen active all the time. Once you turn on the Auto-lock function, your phone's home page stays on the time display screen. That way, you make FlipClocker an immersive clock screensaver for your iPhone. 
Do I Need to Purchase Flip Clocker's Lifetime Plan? 
If you're a fan of retro-style flip clocks and have been using Flip Clocker's free plan, you might wonder whether it's worth upgrading to the lifetime plan. 
The answer is yes. FlipClocker's paid service deserves your money. Though you can use this app for free, the features you can enjoy are minimal. For example, you can only switch between some simple and basic clock styles. You can't apply those vintage analog clocks to your screen. But if you upgrade to the paid plan, you can unlock all its features and enjoy all upcoming new features for free. 
In summary, whether or not you should upgrade to the paid version of the app depends on your needs and preferences. If you are satisfied with the features offered in the free version, there is no obligation to upgrade. However, if you want unrestricted access to all features, the paid version would be your better option.
Conclusion: 
Flip Clocker is a simple and elegant flip clock app that constantly reminds us of the time without being intrusive. Its minimalist design and customizable background make it popular for users who value aesthetics. 
Whether you're a student, a freelancer, or someone who spends a lot of time on their computer, consider making your Mac a clock wallpaper. Not only can it help you stay on track and add some personality to your workspace, but it can also help you capture some stunning photos of your daily environment.