Apple has proved its worth when it comes to security and safety features. The brand claims full data security of the users. But there are some instances which arises question mark on the brand claims. Well in this particular blog we have chosen one of the similar concerns raised by the user.
According to the users their devices shows that a deleted app is still running using their location data. This issue is not only confusing but also concerning for the victims. And the worst news is there is no official explanation for this issue but undoubtedly there must be potential reason for the same.
While going through several reports we concluded that different users have shared different reasons for the same such as some users have suggested that it can be possible due to bug in the iOS operating system which is resulting the app's location data to remain active even after it has been removed from the device.
Though the issue has been not addressed yet but on the basis of different users experience we have gathered some effective methods to tackle the situation. So without any further delay let's get started with the discussion.
What to do when Deleted App still using location iOS due to bug?
Method 1: Reboot the device
Before proceeding with the complex methods we suggest you to reboot your device first. Restarting the device will remove glitch from your device. And this solution has been suggested by so many users. And as we have earlier mentioned that Apple have not officially announced any fixes for Deleted App still using location of iPhone  so it is suggested to reboot your device to resolve the issue.
Additionally we suggest you to keep visiting the official sites to get in touch with the related updates.
FAQs
How to see recently deleted apps on the iPhone?
Method 1: Previewing the Deleted Apps
To do so you can follow the below mention guidelines:
Step 1: First of all open the App store and click on your profile picture in the upper right corner> tap Purchases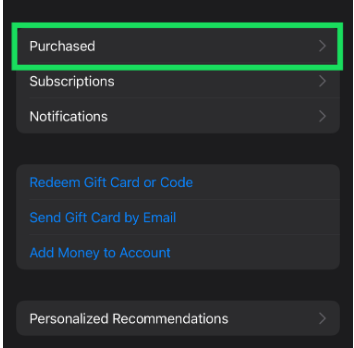 Step 2: Then tap My Purchases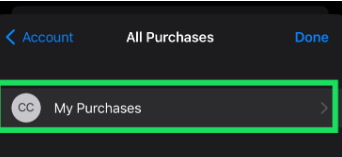 Step 3: Tap Not on this iPhone
Note that if you select "All" tab you can see every app on your account. The installed ones have the Open button on the right, and the ones you deleted have a small cloud icon.
If I change my Apple ID, can I still recover my Apps?
Well the answer is No. If you delete or lose access to your Apple ID, you will also lose access to all saved information and your purchases.  The only fix to this is if you had Family Sharing set up.
Reactivate Family Sharing with your new Apple ID and see if your purchases become available. If you deleted your Apple ID, this may not work because you also deleted all purchases. Alternatively, if you or someone in your family made the purchases & your account is still active, it's certainly worth a shot.
Can't delete Apps in iOS 11 iPhone and iPad
Method 1: Delete Waiting Apps
When you are installing or updating a certain app then the app may be stuck on waiting & you can't delete it either.
If the issue is caused by unstable network connections: go to "Settings">tap "WLAN" in order to connect to a stable Wi-Fi again or tap "Cellular" to use cellular data.
If you are facing the issue because of lack of storage: Go to Settings> General>iPhone Storage to check the free space. If the storage has drained, free up more space by deleting apps on iPhone/iPad on iOS 11.
Method 2: Enable Restrictions for Deleting Apps
You can follow the below mention guidelines to enable restrictions for deleting apps and to proceed follow the below mention steps:
Step 1: Navigate to Settings> tap "General">choose "Restrictions"
Step 2: Now enter the password set for restrictions as required> then find out "Deleting Apps" and slide it to "On" so that it is enabled.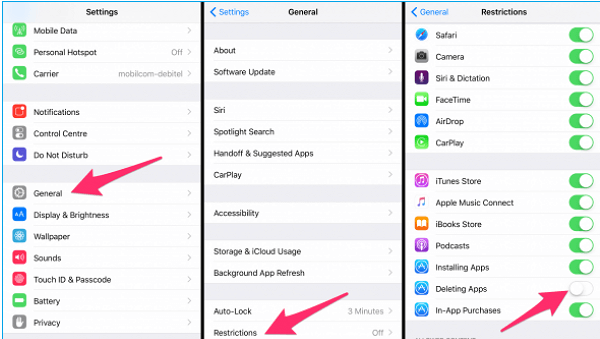 Once you are ensured the settings is right then go back to your Home Screen to try again.
How to delete apps on iPhone permanently?
Method 1: Delete iPhone apps from Settings
You can follow the below mention steps to delete iPhone apps from settings and to do the same follow the below mention guidelines:
Step 1: On iPhone go to the Settings>General
Step 2: Tap on iPhone Storage. A list of installed apps appears
Step 3: Now click on the apps that you don't need. Choose Delete App again followed by Delete App option to confirm the action.
Method 2: Remove app from Home Screen on iPhone
To proceed follow the below mention steps:
Step 1: On the iPhone Home Screen, touch & hold the app till it jiggles> from the options, tap on Remove App
Step 2: You can also choose to click Remove from Home Screen (this keeps the app in App Library) or Delete App option.
That's all about Deleted App still using location iOS bug, we really hope this article was helpful for you and you liked it. Thanks for Reading.