This article is devoted to those who are seeking possible manual instructions or methods regarding how to fix ntkrnlmp.exe windows 10 BSOD error easily. If you too are facing this error then you might learn some recommended techniques to sort out this issue in various cases. Take a look over recommended ntkrnlmp.exe error fixes so as you can retain your PC working in normal condition.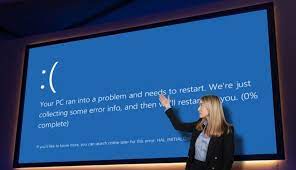 About Ntkrnlmp.exe and its related errors
Ntkrnlmp.exe is basically an executable file or say program which is an essential component of Windows OS files. When the OS starts executing on PC, a number of programs including Ntkrnlmp.exe runs and loaded in virtual memory of system or say RAM. These programs are OS programs which runs as NT Kernel & System processes of Windows to keep the system running efficiently.
Facing Ntkrnlmp.exe BSOD error or other errors related to same file are mostly caused due to a few reasons like graphic's card driver corruption, improper loading of operating system, malware impacts, and so on. In such cases, the aforesaid exe files fail to run properly and throws error preventing PC to run normally. Means, in case your system is throwing such error, the system actually crashed due to failure of graphics card driver or due to some malware. Fixing ntkrnlmp.exe issues manually as well as with a recommended utility program is easily possible. And we are just going to discuss the same.
Know how to fix ntkrnlmp.exe blue screen issues
According to our technical experts, we have found some possible steps through which a user can easily find ntkrnlmp.exe error fix either manually or automatically. The method includes:
1: Just restarting your Windows

2: Update your graphics card driver

3: Disabling C-states and EIST in BIOS settings

4: Configuring Driver Verifier Manager

5: Scan for virus or malware and fix ntkrnlmp.exe automatically with a suggested utility software
Method 1: Restart your Windows PC
Yes, just restarting your Windows system somehow fix ntkrnlmp.exe errors easily if the issue is caused due to improper loading of OS files. This happens many a times due to improper shutdown previously, failure of MBR to load, and so on. Thus, if these are the reasons to throw ntkrnlmp.exe BSOD error on your computer, you can fix it easily by just a Reboot.
Method 2: Update your graphics card driver
Graphics card driver is basically a very important driver which is responsible to make Windows OS run smoothly, and if something goes wrong with it, facing ntkrnlmp.exe error is expected. In such cases, your installed driver might be either outdated or corrupted. To fix the issue in this case manually, follow the guidelines below:
1: Hit Win+R key combination to open Run command box
2: Type devmgmt.msc to open Device Manager
3: Expand Display Adapters, and select your Graphics card
4: Right click on selected entity and choose Update Driver Software
5: Click on Search automatically for updated driver software
6: The update process will start and end up in a few seconds or minutes
7: Restart your Windows
Method 3: Disable C-states and EIST in BIOS settings
In some cases, ntkrnlmp.exe BSOD errors are also caused due to enabled EIST (Enhanced Intel SpeetStep Technology) power saving feature. Although this feature powered by Intel is great to control clock speed of Intel processor cores, but sometimes causes issues too. If eruption of ntkrnlmp.exe issue is due to this feature, you can disable C-states and EIST in BIOS to resolve this issue. Here comes the instructions:
1: Turn your system Off, then On to boot into BIOS settings. Steps may vary from computer to computer so must check your screen while boot starts to find either F2 or Del key press is required.
2: Navigate to Advanced > CPU configuration
3: Select CPU Power Management
4: Find C-state and Intel EIST options to set them disabled
5: Press F10 key to save and exit, confirm your action
6: Reboot your system
Method 4: Configure Driver Verifier Manager
Driver Verifier is a function in Windows operating system that helps users to manage kernel-mode drivers and also graphics card drivers too. In case if verifier detects any issue with some drivers, it also provide available solutions to fix it. To fix ntkrnlmp.exe BSOD error, it can also be useful and here are the steps to follow:
1: Click on Start button and type cmd in search box. Select and right click over Command Prompt to choose Run as administrator, and click Yes to verify your action in UAC pop up.
2: In CMD window, type verifier and press Enter. This will open Driver Verifier Manager.
3: Select the very first option "Create standard settings" and click Next button.
4: Click Automatically select all drivers install on this computer, and hit Finish button to start verifying driver issues.
5: Click on Ok button to reboot your system
6: Once the process is finished, you will get a report regarding driver status and issues if detected by verifier. Just follow those instructions to get easy ntkrnlmp.exe error fix.
Also, you may require to stop Driver Verifier process for which the steps are here mentioned:
1: Just follow step 1 and 2 to open Driver Verifier Manager wizard
2: This will bring you up again on screen as shown in image. This time, select Delete Existing settings, and click Finish button
3: Click Yes to restart your computer
Method 5: Learn how to fix ntkrnlmp.exe Windows 10 BSOD error automatically (This method can also fix the issue if caused by malware or virus impacts)
This method is highly recommended to all those users who are enough novice or seeking a permanent solution to their system issues automatically. We recommend you to choose Advanced System Repair utility software for Windows that is capable to detect and fix all kinds or errors or problems on computer in minutes. And that's too without any risks or efforts as required through manual steps. Also, the solution can fix ntkrnlmp.exe error automatically if caused by malware or virus attacks. You just need to install and run this utility software and all your present system issue including ntkrnlmp.exe error get fixed in few next minutes.
Is Your PC Behaving Abnormal & Needs Instant Optimization?

We recommend you to choose Advanced System Repair Suite which is dedicated to offer complete options to optimize a PC, fix any Windows error, and remove malware threats in easy. The software is award winning and suggested as the best malware fix application supporting all Windows versions including XP/Vista/7/8/8.1/10. Just 3 steps to avail error free PC.
Advanced System Repair Tool and install on your PC. (Follow all on screen instructions when installer is executed)
Click "Scan Your PC" button to scan all present issues, errors, junk files, and malware threats.
Finally, click "Start Repair" to fix all detected problems in next few minutes.
(We hope you really enjoyed reading this article regarding how to fix ntkrnlmp.exe windows 10 BSOD error without a mess. Do share this article to your friends or relatives to help them being a technical geek. Subscribe Us to be updated about all our latest articles.)