OnlyFans needs no introduction as it is an online platform used by several professionals like You Tubers, Models, Content Creators to showcase their talent for promoting their profession. Well the main purpose of users for choosing this platform is making money. The contents available on this platform are purchased by its viewers by getting a monthly subscription. And with the passage of time OnlyFans has earned a huge number of fans. This website is not a scam. It has strict rules about its content and if any users violate these rules they may face get stuck with server issues or may get blocked on the website.
But many times it happens even without violating any rules users fails to access the website flawlessly and gets stuck with annoying errors and here in this particular tutorial we are going to discuss one of the same errors named "OnlyFans Internal Error." So without any further delay let's get started with the discussion.
About the Error!
The above mention error implies that the user cannot access the website currently due to scheduled maintenance of the site or probably the website is too busy that it can't complete the user's request. But sometimes the error also gets prompted due to geographical restrictions or device malfunctioning. However in most of the cases it has been seen that the error occurs because of server issue.
Apart from overloaded server and scheduled maintenance there are variety of reasons that leads to this situation such as troubles with the payment method. Invalid payment methods or unapproved accounts are major reasons for getting stuck in this situation. Sometimes a generic glitch may also makes you suffer from the same.
Try these fixes for OnlyFans Internal Error
Method 1: Check your Internet Connectivity
Before proceeding with the complex methods it is necessary for you to check your internet connectivity. If you are suffering from network issues then you won't be able to access the website flawlessly. So in order to tackle this situation it is recommended to reboot your device as well as your router.
If rebooting the device and router didn't works for you then switch to an Ethernet connection to get a flawless internet connection.
Method 2: Reboot your Browser
If you are not facing the above mention error because of instable internet connection then it could be due to glitches in the browser. In order to remove bugs from your browser restarting can be a effective. To proceed with this method follow the below mention guidelines:
For Google Chrome:
Step 1: First of all close all the background processes including the browser you are using OnlyFans and reboot your system.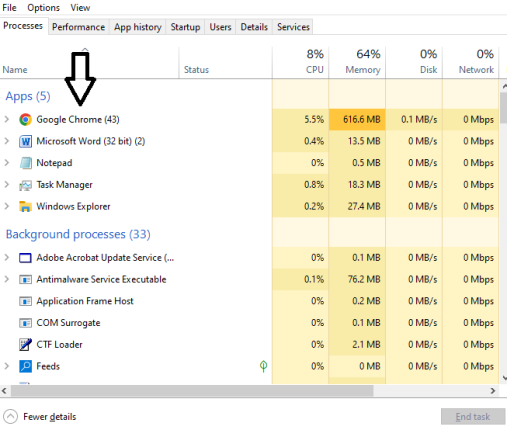 Step 2: Launch Chrome from the search menu and tap on Open> after that login to your account check if the issue resolved or not
Method 3: Check for Server Status
One of the major reasons for facing the above mention error is overloaded or unreachable servers. Server issues are quite common with such kinds of websites because of scheduled maintenance in order to enhance the user's experience. So you need to check whether the server is down, if you found so then wait for some time until the server gets back to work.
Method 4: Check your Payment Method
If you are getting the above mention error while making payments then you really need to check whether your card is 3D Secure or not. Being a OnlyFans user you must now that it only accepts secure 3D Cards. We have enlisted some payments modes that OnlyFans accept:
#1. Discover
#2. Some Prepaid Visa cards
#3. Maestro/Debit Cards
#4. Visa/MasterCard
Method 5: Relogin to OnlyFans
It is quite possible that you are facing the above mention error due to bug in your account. And in order to fix this minor bug, you can simply log out and then login in to the account. To proceed with this method, follow the below mention steps:
Step 1: Launch OnlyFans & tap on Profile icon at the top of the left corner of the screen> then scroll down the list and tap on Log Out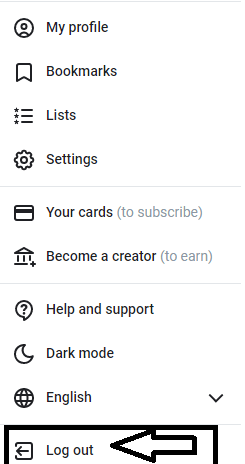 Step 2: After that restart your device and the browser> then open your browser and go to OnlyFans login page> after that login using your credentials
Method 6: Have Patience until the Account get Approved
While signing up for the account users are asked to verify their account since the website is reputed so it has some rules and the user needs to follow it rigorously. In order to protect the user's content from hackers, OnlyFans asked for account verification. This verification is done just for the authentication purpose.
In order to complete this process users are asked to provide some confidential information including full name, valid form of payment and email address. Once the website gets this information they ensure that the no one can access your account without your consent. As the process gets completed, the website asks you to wait for the account approval. A verified account indicates that the details provided by the user are correct and the account is secure.
But sometimes even after providing correct details and appropriate documents the website fails to approve the account within 24 hours and in such case users get 500 OnlyFans internal server error, so kindly wait till your account gets verified.
Method 7: Clear the cache & Cookies
Well you may also get stuck with the above mention error because of accumulated cache and cookies. So in order to tackle the error you are suggested to delete cookies & cache from your browser. We also suggest you to remove the history. Once done then check if the issue still persists.
Method 8: Contact Customer Support
If none of the above mentioned methods works for you then ask for the customer support. They are trained to resolve the user's concern and thus they are capable enough to resolve the error. You can contact them using the official mail address. Apart from the solution of the error you can get other details regarding your account.
Conclusion!
That's all about OnlyFans Internal Error. We have tried to provide all the relevant and effective methods to solve the error without any hassle. And we really hope you liked out efforts. Thanks for Reading.