Opera is a multi platform web-browser based on Chromium browser. It is one of the oldest web browsers still active on desktop. It can be used in multiple different platforms including Windows, Android, Linux, iOS and macOS with different iterations and Opera GX being its latest.
Opera GX is mainly targeted at gamers. Its whole user interface as well as customization is designed with gamers in mind. You can even limit resources that it is consuming, for example limiting networking speed as well as CPU and memory usage as well. It also has extensions for other apps like Twitter, Instagram, and Discord etc.
With its popularity among gamers, there came a disappointment with plenty of users facing issues like constant crashing, bugs, glitches as well as Opera GX not opening Windows 10. For that reason, we have brought all the possible workarounds and solutions to resolve this issue.
Method 1: Open Opera from Launcher File
The icon you see on desktop is merely a shortcut file to its source location. And sometimes, there is a problem between the shortcut file and the destination file. Therefore, we can try to launch the application from the source file to see if this was the issue.
Open RUN Dialogue box by pressing Win + R key on the keyboard together.
Type %localappdata%\Program and press Enter to open hidden program directory.
Find and open folder named Opera GX.
Open the latest version folder.
Locate exe and double-click to open.
If the browser open after running the launcher.exe then the problem was the shortcut file, don't worry it will automatically update the shortcut file. That means, no need to launch from launcher.exe
Method 2: Update to Latest Version
Outdated or old version has been the reason behind many of the issue as reported by many users. Always update your applications to latest version to have a full experience. Check current opera browser version then go to Opera GX official download website and match the corresponding version numbers.
If your version is outdated or old then download the very latest version available on website. Open the downloaded installer package and follow the on-screen instructions to complete the setup. Again try to open the browser to see if it works.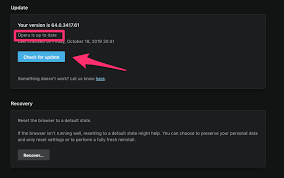 Method 3: Exit Microsoft Family
If you are a part of Microsoft Family then it can cause your version of Opera to not open. To resolve this, you have to leave the Microsoft Family for temporary. To remove yourself from Microsoft Family, follow these steps:
Go to Microsoft Family Website.
Login your credentials.
From the list of peoples, find your user card.
On your card, click the three dotted menu button.
Select Leave Group from the drop down menu.
Launch Opera GX browser to see if the issue was resolved.
Method 4: Instead of Microsoft Account Use a Local Account
As reported by numerous users, it is possible to resolve this problem by switching to Local Account from Microsoft Account. Follow these steps to do so:
Open Settings application by pressing Win + I key together.
Go to Account
Click Sign in with a local account instead then click
After that, enter your password and click next.
Now input the name for the local account and proceed to the next step.
Follow the instructions to finish the process.
 Method 5: Reinstall Opera GX Browser
This method should be last on your list as it will erase all the data of your browser. To reinstall Opera GX
Open Run dialogue box and type
"%LOCALAPPDATA%\Programs\Opera GX\launcher.exe" –uninstall
Select "Uninstall" from the following window.
Follow the on-screen instructions to completely remove the software from computer.
Once the process is complete, download a fresh copy of Opera GX.
Execute the setup file and install it again.
Even though the popularity of Opera GX browser in on a rise. There is no stop to these issues ruining the experience of the user base. Therefore, we are here for the rescue with the methods and solutions to fix Opera GX not opening Windows 10 with easy steps and procedures.