Peripheral Component Interconnect is a local computer bus which is generally used for connecting peripheral devices to the computer. This device is plugged into your computer's motherboard. These divers are quite imperative that keeps your machine running properly. So updating these drivers on regular basis as important as updating the Windows.
But sometimes it happens when the system fails to recognize the connected device and the users get prompted with PCI simple communications controller error code 28. If you are too facing the same issue then keep scrolling the blog till the end.
Description of the Error!
Error Code 28 is s Device Manager Error code, this error can also occur on 32-bit or 64-bit version of Windows 7/8/10 on an Ethernet Controller or Bluetooth. And once the users get prompted with this error on your screen, Video Controller, USB device, Realtek HD Audio, Video Controller or many other devices under Device Manager will show you that drivers for this device are not installed.
Due to this error sometimes users may face screen freezing for short time or the Windows becomes less responsive to the mouse or keyboard. And if we talk about the reasons for the same then the one and only reason for getting this error is an outdated, missing or corrupted driver. So in order to tackle this error you have to update the drivers and to do the same, you can use the following methods.
Try these fixes for PCI simple communications controller error code 28
Method 1: Uninstall and Reinstall Device Manager
It is quite possible that your drivers are not working properly because they are not installed properly, so in such case you it is suggested to u install and then reinstall the drivers.
To do the same follow the below mention guidelines:
Step 1: Right-click Start Menu and select Device Manager to open it> Once the Device Manager window opens, find Other Devices and click it to expand it
Step 2: In Other Devices, go to Base System device >right-click it and choose Uninstall to uninstall it. Then Windows 10 start to search for the latest Base System Device driver for your PC
Step 3: Then Restart your PC>Windows will reinstall the online drivers for your PC.
Method 2: Update the drivers
If the above mentioned methods didn't works for you in resolving The drivers for this device are not Installed. (Code 28)} error then we suggest you to update the drivers and to proceed you can follow the below mention guidelines:
Step 1: Use Windows + R keys to open the Run terminal>then type in devmgmt.msc under the Run dialog box and click on OK
Step 2: Under the Device Manager, find and double click Other Devices to expand its category> Search for PCI Simple Communications Controller driver and right-click on it
Step 3: Select Update driver software from the context menu list
Step 4: Finally choose the option that reads Search Automatically for Updated Driver Software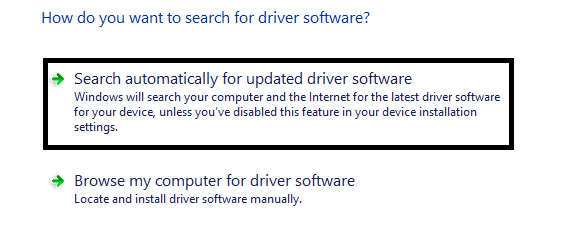 Method 3: Go for Automatic Driver Tool
If you found the above mentioned steps complicated then you can simply choose the automatic Driver Tool. This Professional tool will resolve all the driver related requirements of your system in just a single go.
That's all guys, we assume you liked the blog and it was helpful for you in resolving PCI Simple Communications controller Error Code 28. Thanks for Reading.