Tips to fix System Reserved Partition missing Windows 10:
In this post, we are going to discuss on How to fix System Reserved Partition missing Windows 10. You will be guided with easy steps/methods to resolve the issue. Let's starts the discussion.
'System Reserved Partition missing' issue in Windows 10:
'System Reserved Partition': When you install Windows 10 OS on a clean formatted disk, it first creates a partition on the disk at starting of hard disk and this partition is called 'System Reserved Partition'. After that, it uses the balance unallocated disk space to create you system drive and install Windows OS. System Reserved Partition holds BCD (Boot Configuration Database), Boot Manager Code, Windows Recovery Environment, and reserves space for the startup files which may be required by BitLocker, in case you use BitLocker Drive Encryption feature.
However, several users reported they faced System Reserved Partition missing Windows 10 or System Reserved Partition missing issue on their Windows 10 computer when they tried to upgrade Windows 10. This issue indicates you are unable to finish Windows 10 upgrade operation in computer and when you try to upgrade, you receive the following error:
"Windows 10 Couldn't be installed.  We couldn't update the system reserve partition"
This error is appeared while upgrading Windows 10 OS possibly due to missing SRP (System Reserved Partition) in computer. It might possible you have accidently deleted System Reserved Partition or is hidden inside your computer that's why you are facing the issue. If you are looking for ways to get back System Reserved Partition, then you can recover System Reserved Partition with our instructions for this. Let's go for the solution.
How to fix System Reserved Partition missing Windows 10?
Method 1: Rebuilt or repair System Reserved Partition/deleted System Reserved Partition via Command Prompt
Step 1: Insert Windows 10 Installation media bootable USB into your computer and boot your computer with it, and press 'SHIFT + F10' keys on keyboard to open 'Command Prompt'
Step 2: Type the following command and hit 'Enter' key to execute.
bootrec /fixmbr
Step 3: If you receive the error 'Element not found', you may need to mark the boot partition as active with diskpart first. Execute the following commands
diskpart

select disk 0

list partition

select partition #
Step 4: Select 'System Reserved' partition if you have it or Windows OS partition
Step 5: Now, execute 'Active' command and then execute 'Exit' command
Step 6: Now, execute the following commands in Command Prompt
bootrec /fixboot

bootrec /rebuildbcd
Step 7: Once executed, restart your computer normally and check if the issue is resolved.
Method 2: Restore missing/deleted System Reserved Partition with Partition Manager Software
You can fix the issue by restoring missing or deleted System Reserved Partition using Partition Manager Software – third-party software from EaseUS.
Step 1: Open your browser and download & install EaseUS Partition Manager from official site
Step 2: Once installed, launch it and click 'Partition Recovery' on top menu. A new window will appear and ask you to select a disk to start searching for lost partitions. Select the desired disk and click 'Scan'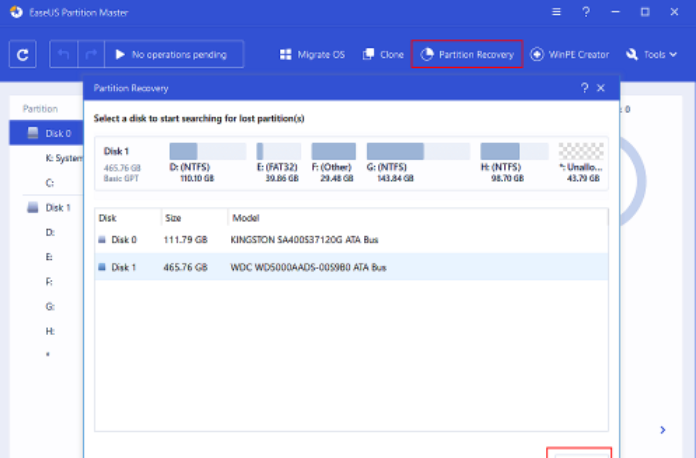 Step 3: This will start scanning and you can pause scanning at any time by clicking 'Proceed' when the lost partitions shows up to start your data recovery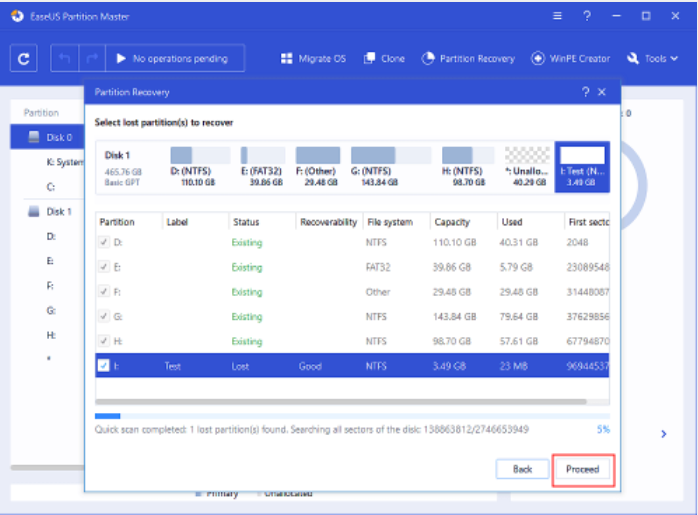 Step 4: You can double-click on partition you are looking for to preview its content. As soon as the lost partition and data has been found, click 'Recover Now' or else, go on with 'Continue scanning' for more lost data recovery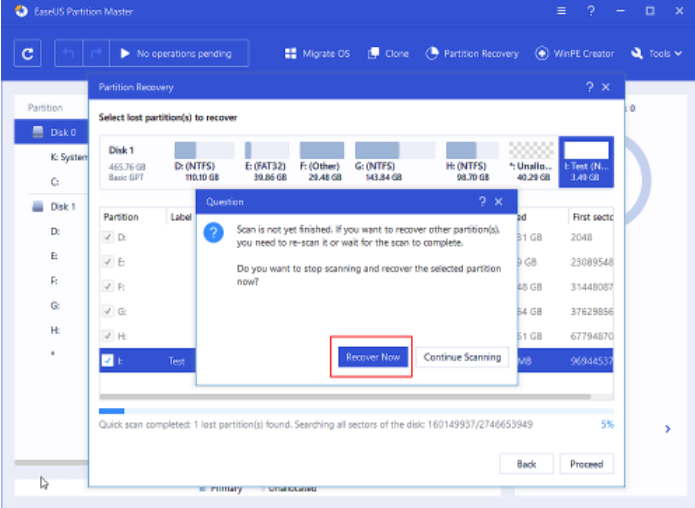 Step 5: Once fished, click 'Finish'. Your lost partition should appear in your drive, and then check if it works for you.
Fix Windows PC issues with 'PC Repair Tool':
'PC Repair Tool' is easy & quick way to find and fix BSOD errors, DLL errors, EXE errors, problems with programs/applications, malware or viruses infections in computer, system files or registry issues and other system issues with just few clicks.
Conclusion
I am sure this post helped you on How to fix System Reserved Partition missing Windows 10 with easy ways. You can read & follow our instructions to do so. That's all. For any suggestions or queries, please write on comment box below.