Multiple users have described that they are getting Error Code: VAL 5 on Valorant while trying to play the game or are in queue for matchmaking. This could be happening for many reasons, some of those reasons can be Unstable or Weak Internet Connection, Valorant Server Issues or the game is scheduled for Maintenance.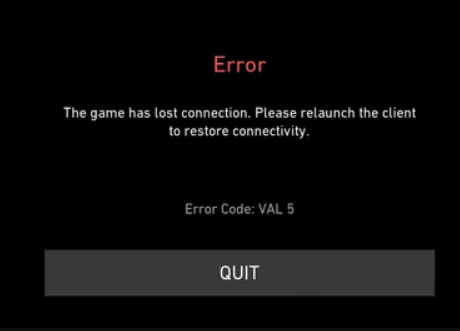 To fix this problem we have brought you all the best possible solution.
Restart Valorant
The simplest way to fix your problem is to restart your game. Restarting your game will fix all the temporary game client issue and can possible fix your issue.
Close All Your Unnecessary Applications Running In Background
Another way that can help you to fix this issue is to close all your unnecessary background applications. If there are multiple applications running in background which is using your Internet Connection can cause you this Error.
To close your unnecessary applications running in background
Step 1: Open Task Manager by pressing Ctrl + Shift + Esc key simultaneously on your keyboard.
Step 2: Select the Network tab. Now check which unnecessary application is using your Internet Connection.
Step 3: Right Click on that application and close End Task.
Check If you are still having this problem or not.
Execute a Clean Boot
Valorant Error Code VAL: 5 could be happening because of software conflicts and can be fixed a Clean Boot. And to do so follow the steps
Step 1: Press Win + R to open RUN dialogue box and type msconfig and click OK.
Step 2: Go to Services tab and tick Hide all Microsoft Services then click Disable all button.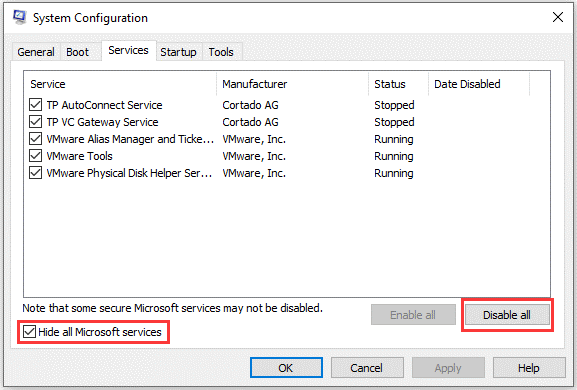 Step 3: Open Task Manager and go to Startup tab, here disable all the startup items.
Step 4: In System Configuration click Apply then OK. And restart your computer.
Once done open Valorant and check if the error has been resolved or not.  
Update Your Network or Wi-Fi Driver
Updating your network driver will help you to achieve a more stable Internet Connection. To do so,
Step 1: Click Start and type Device Manager in the Search dialogue box.
Step 2: Click Device Manager and search for Network Adaptor option.
Step 3: Find your current network adaptor and Right Click on it and select update Driver.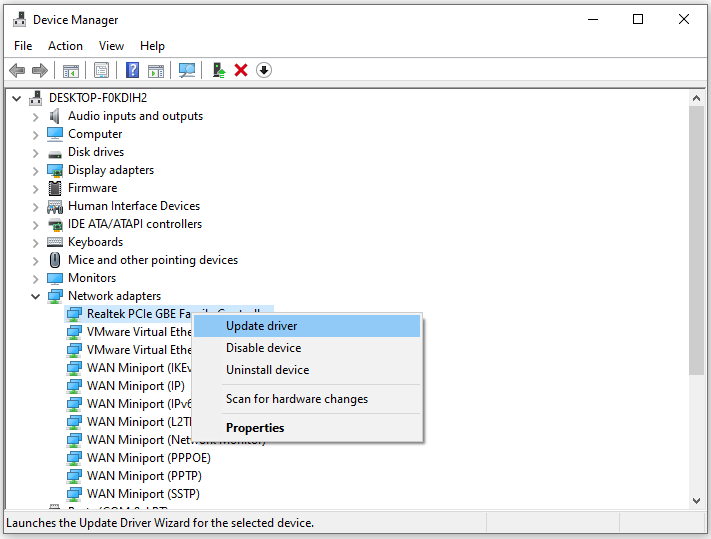 Step 4: Click Search automatically for updated driver software and follow the corresponding instructions.
Another way you can update driver is by downloading Windows accumulative updates in Update and Security tab under Settings.
Finding the right driver for your computer can become a hassle and can sometime becomes the cause of mismatch. Many people find themselves in a difficult sitution while trying to do the driver update manually. Therefore to reduce the tension of having to find the right driver for your computer we have provided you a reliable software solution. Using Automatic Driver Update Tool you can solve all your issue with a single click. With its reliable search mechanics you can easily update all your drivers without any hassle.
Reinstalling Vanguard
Many a time Riot's Anti-Cheat Vanguard engine has become the cause of these unexpected errors. Simply re-installing Vanguard could possible fix your this issue.
Step 1: Open Control Panel from Start menu.
Step 2: Click Program and Features option and select Riot Vanguard.
Step 3: Right click on Riot Vanguard and click uninstall.
These are all the possible solutions with easy to follow through steps and methods than can fix Valorant Error Code VAL: 5.