Are you getting "your credentials are incorrect or have expired. Please try again or reset your password" error message while logging into your account. Don't Panic, Stay Tuned with us.
The research says that the error is associated with Origin & Steam. And several Origin users have reported the above error while login into their EA Origin account.
You might have understood with the error message that you are suffering from the error due to incorrect or expired credentials used for accessing the account. But let me tell you that this is not the only reason to occur the issue.
After researching a lot we have concluded that sometimes due to server issues users also encounters the above problem. You might have thinking that if the credentials are wrong or expired then why we are talking about server. You should know that server plays an important role in this because whenever we want to access our account then we need to enter the credentials to open our account. These credentials communicate with the server and then the server helps us in accessing the account. But sometimes you might have noticed that we enter right credentials but still failed to access the account, in such case you need to understand that the server can be one of your culprits. But remember there are other factors which are responsible for "Your credentials are incorrect or have expired. Please try again or reset your password" error message.
Reasons for the above error message
One of the major reason to face the error message is the password you have typed is incorrect.
Your credentials have expired due to corrupted browser and Origin cache
You have reset your password but however it was not updated in the app
You are likely to face the error when the user does not have the accurate permissions and attempts to update or modify the settings
Troubleshooting Methods for "Your credentials are incorrect or have expired. Please try again or reset your password."
Method 1: Restart Your Computer
The very first thing we will suggest you to restart your machine. Restarting the machine will refresh your PC and will fix the software glitch. So just reboot your system.
Method 2: Clear Browser Cache
You might know that cache data is the information stored on your machine when you visit any website and the developers use the cache data to enhance your online experience. The main motive of cache data is to speed up site loading. But sometimes it happens when the cache data gets corrupted due to certain reasons it creates several issues and the above problem is one of them. So we suggest you to delete the browser cache and to do so follow the steps:
Firstly open your Browser
Click on the three dots , at the upper right side
Tap on More Tools>clear browsing data
Select a time range from the top
Choose All time if you want to delete everything
Check the boxes next to "Cookies and other site data" & "Cached images & files"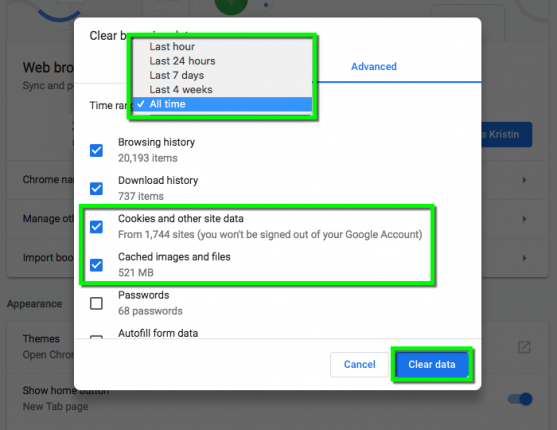 Method 3: Delete Your Origin Platform Cache
We will suggest you to delete your Origin Platform Cache time to time. If you keep clearing your cache on a regular basis then it might prevent you from the above situation in future. Clearing cache is one of the easiest process to do and if you don't know the process then follow he below mention guidelines:
First of all close your Origin Platform , if it is running
Hold the Win + R keys together
Type in %ProgramData% under the command box and tap on OK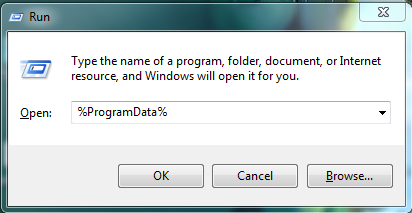 Lastly delete all the files & folders under it except Local Content
Method 4: Uninstall Antivirus Programs
Sometimes the antivirus programs installed on your system can be a major reason to face your credentials are incorrect or have expired. Please try again or reset your password. Several users have claimed that they manage to deal with the above issue. So you are also suggested to uninstall your antivirus temporarily. But be careful while visiting the sites after uninstalling the antivirus software. In order to uninstall the antivirus from your machine, follow the below mention guidelines:
Navigate to the Control Panel
Look for Add or Remove Programs utility
From the list of installed programs find the antivirus program
After selecting your antivirus program you need to click on Uninstall option
Method 5: Reset your account password
As it is mentioned in the error message that due to incorrect credentials you are facing the problem, so we suggest you to reset the password for successfully accessing your account. And to do so, follow the below mention steps:
Navigate to the Login Screen
Tap on "Forgot Password">enter your email address
You will receive a mail on your email address a link to reset your password
When you will click on the link , you will be entered to a new page
Here you have to create New Password> then confirm the password >save it.
Method 6: Turn on Two-factor Authentication
Two factor Authentication which is widely known as 2FA. You might have heard about this term. 2FA adds additional security to your accounts. Once you enable it then it sends a distinct code whenever you try to login into your account. The best part about 2FA is if someone gets access of your password then they can't misuse it. So we suggest you to initiate 2FA and to do so follow the below mention steps:
Firstly login to your account
Navigate to Security>login Verification
And finally turn it on.
Method 7: Go for a Repair Tool
Sometimes it happens when our system software glitches interferes in accessing the accounts. If you are facing malfunctioning of the system or sudden app crashes then it is a clear sign that your system files are not intact and they have some issues. In such case we highly recommend you a PC Repair Tool. This tool will not only fix the above issue but will surely repair all your system files and prevent you from critical errors like BSOD Error, DDL Error and so on.
Method 8: check the Server status
We have earlier mentioned the importance of server. So we suggest you to check the server status and if it is down or under maintenance due to any reason then you have to wait till the server gets back to work again.
Method 9: Contact Support Team
If you are still struggling with the credentials are incorrect or have expired. Please try again or reset your password, then you can contact to the Support Team. The will surely help you.
Bottom Line
My job is done here! I have tried my best to provide you all the possible information regarding the above issue. And I really hope that the above guidelines will definitely help you in getting past the problem.
Apart from this, if you have any queries or concerns about it, then don't hesitate to share on our Facebook and Twitter Page. Thanks for your time. Have a great day.