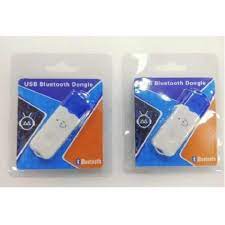 Description: This article is subjected to those who are wishing to install another Bluetooth Adapter on their system, but failing due to previously installed one. This is mostly required when the pre-installed adapter starts to suffer issues. In such cases, the user choose to use a Bluetooth dongle on their system, but using the same as replacement turns to be hard due to previously active one. This article will show them some useful steps to deal with such scenario to avoid issues while installing Bluetooth dongle driver on Windows 10.
About Bluetooth Technology
You might heard about the name Bluetooth, which is actually a short range wireless technology allowing compatible devices to start communication with a computer without any cables. Through this medium, users can transfer files, images, and any other data kinds, however on a slow data transfer rate. And while using a computer, it's common for users to connect any of their peripherals like phones, other laptops, or desktops for similar communication purposes.
Many a times, it happens that a built-in Bluetooth adapter requires to be replaced with new one. In such cases, buying a Bluetooth dongle and using it as a replacement is very common. But, if the adapter is already integrated in wireless card or motherboard, Windows 10 can still identify it, even when the adapter is not working properly. And installing external Bluetooth dongle or adapter in such cases can be hard enough. The reason is, Windows 10 or even the user just want to use only a single adapter per device, else the system may run into stability issues while connecting to periherals.
So, if you are also running with the hurdle, this guide will allow you learn some easy steps to install Bluetooth dongle driver or adapter on your Windows 10 to replace the faulty old one.
Instructions How To Install Bluetooth Dongle Driver (Adapter) Replacing Old One
Since you are running Windows 10 as operating system, unless you manage to disable the first old adapter or driver permanently, it's obvious for the new one to conflict, leading failure to installation. So, you must have to disable the old bluetooth adapter at first.
Disable Old Bluetooth Adapter
In order to disable the ole defective bluetooth adapter on windows 10, get through the steps below:
Click to open Start menu.
In the search box, search for Device Manager and click the first result you see to open device manager on your machine.
Locate and expand Bluetooth
Click right over wireless adapter, and choose Disable device option in context menu
The option will ask to confirm your action, click Yes button.
Once you disable the old adapter, the sysem won't use that old device, and won't cause any issue with the new Bluetooth adapter for your machine.
Since you are intended to replace your old adapter, obviously you will choose a bluetooth dongle because such devices are compact in design and connects with the system through USB ports, and is compatible to work with all devices whether it be laptop or desktop. We suggest you to choose a dongle having 5.0 EDR technology which supports all the latest peripherals and is also compatible with previous versions.
Measures to install new Bluetooth dongle driver
In order to install the new Bluetooth dongle on Windows 10, you just need to follow 2 steps as mentioned.
The first is to connect the new Bluetooth device to a free USB port on your machine.
The second one is to let Windows 10 detect and install its bluetooth dongle driver automatically.
After the completion of above steps, the users are ready to connect with peripherals. However, it's necessary to check if the new bluetooth device is working properly on Windows 10.
Checking new adapter if working fine
Here comes a few steps through which users can determine if the new dongle is configured successfully.
Open Settings app.
Navigate and click on Devices
Scroll down to click on Bluetooth & other devices
Check and confirm if the Bluetooth toggle switch is available.
Once you see if the toggle is available and easily accessible, then your new device is welll configured and ready to be used. However, in case if you notice the above mentioned option saying Add Bluetooth or other device button, then probably the new Bluetooth dongle driver is not installed properly in automatic installation mode. To fix the issue in such case, we suggest you to check how to install bluetooth dongle driver manually below.
Installing driver manually
In most of the instances, while setting up bluetooth dongle on Windows 10, it should be a plug n play process. But sometimes, the users may need to install the driver manually.
If your notice the dongle driver is not installed automatically, we suggest you to check device's manufacturer's support website to download the latest drivers for device, execute the same on computer and follow on screen instructions. Many of bluetooth device manufacturers use t publish their drivers and make them available through Windows 10 regular updates, making the installation process easy.
In order to install a Bluetooth dongle driver manually via Windows Update, refer to guidelines below:
Open Settings app on Windows 10
Navigate and click on Update & Security
Click on Windows Update
Next is to check for new updates, to do so, click on Check for updates button
If there's an update, navigate to choose View optional updates

Click on the Driver updates tab and select the driver you want to update as in image below

Finally, click the Download and install button.
After getting through above mentioned instructions, you might have successfully updated or installed Bluetooth dongle drivers, and might be able to connect to wireless devices easily without any issue. However, in case if you are still unable to connect with your peripherals through bluetooth, then there might be something more problematic, probably your system needs to be repaired. The bluetootth connectivity issues may also be due to some missing essential files, or misconfiguration. To identify and repair your system, we suggest you taking help of a reliable system repair application.
Download PC Repair Tool To Fix Bluetooth Dongle Driver Issue