It is fun and interesting to change the name of carrier provider of your Apple device such as iPhone, iPad and so on. With this fascinating creativity, you can prank with your friends and family. It is totally safe and you don't even have to worry to jailbreaking your iOS device. You can change the carrier name and logo such as Verizon, AT&T, and Sprint etc. without jailbreaking. So, without wasting your time, I would like to explain the steps. Remember that this process will be applicable on all iPhone, iPad and various versions of iOS.
How to Change the Carrier Name on iPhone Status Bar (For iOS 15, 14, 13 or Earlier)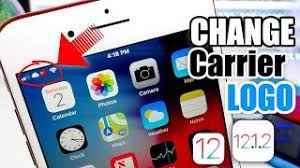 Officially, Apple doesn't provide any way to change or rename the name of Carrier provider on iOS. However, we will provide you some tweaks that will let you to try interesting names and emoji's instead of the traditional logos of the carrier provider.
Here we are suggesting to use a third-party app called "Carrierizer" developed by Cydia developers. (Important note: We are not sponsoring or promoting "Carrierizer" neither this is a sponsored post.) So, execute the tricks or use this software only if you trust them. It is recommended that you read some reviews and testimonials Online before using it.
Carrierizer can change several things on the iPhone/iPad status bar. Some tweaks that it can make are enabling or disabling the carrier text, carrier operator text, hiding the carrier name on the status bar, Changing the name with No Sim/Service text, bogus dual sim notification, bogus no service status, replacing bogus IP address in place or carrier name, showing current temperature or current condition in place of carrier name, or replacing the carrier name with current location.
Changing the Carrier Name in iPhone were not This Easy
 The answer to change the logo or Carrier name is here. First of all, you have to download "Cydia App" on your iPhone. Once again I want to warn you that download any third-party only if you trust the brand or its programmer or its developer. The steps are here;
Open "Cydia" App and open
Click on "Sources" option
Tap on "Edit"
Search for "Carrierizer2" and add it to "Cydia App"
Press on Install and then go to Settings and then tap on Carrierizer2
Can Overriding the carrier name on iOS with Carrierizer Affects Network
Carrierizer tweaks works with Carrierizer but how much it affects the service on iPhone is not clear. Probably there must not be any service issues. In case if you face any network issue, you can try updating your iOS or make a direct call to the carrier provider.
Share your story in the comment section regarding how you pranked or made interesting moments by pranking your colleagues or friends by this trick. Do let us know.