Internet is full of forum where users are asking how can I fix Windows error recovery problem. Well, this issue can occur on any version of the Windows but, according to the reports, it has mostly bothered Windows 10 users. While booting-up your system, you might see several start-up menus and options. Some of these options are for starting the device, opening the Windows into Safe mode, selecting the OS and others are for troubleshooting purposes. With the help of Windows Error Recovery menu, you can troubleshoot issues with Windows on boot-up.
Causes Behind "Windows 10 error recovery" issue:
There might be various reasons behind the occurrence of this threat such as a hardware change, a compromised Boot Configuration Data, corrupt Windows registry, malware or virus and so on. A notorious malware silently infiltrates your PC by stealth and conducts a series of malicious activities in the background. It messes with important system files which assure efficient computer processing and prevents many installed apps as well as drivers from functioning in an appropriate manner. This hazardous parasite keeps executing evil deeds in the background and causes various spiteful issues in the machine including this particular one.
How To Fix Computer Windows error recovery issue?
If you are one of those users who are dealing with this perilous situation and finding ways to fix Windows error recovery issue, you are at the right place at the moment. We have provided some effective methods to get rid of the problem. You just need to apply one at a time and then see if the issue is fixed.
Solution 1- Run Windows Start Repair
You should try to repair to damaged Windows startup process by fixing the related files.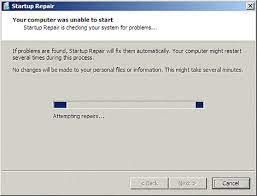 Once the error message appears, you have to wait until timer countdown to run to zero. Or, you can just hit the 'Enter' button when the launch start repair option is selected.
After that, the 'startup repair' interface opens and begins scanning your PC for problems.
Follow the instruction appears on the screen to repair the pending errors.
Now, the device will be rebooted, see if the problem still occurs.
Solution 2- Remove newly added hardware
The Windows 10 error recovery issue can also occur due to adding hardware. And therefore, you should eradicate such components quickly to fix the issue.
Turn off the system and remove the recently added component.
Now, turn on the device normally way. Hopefully, the error message will not appear.
You should now reconnect the component and wait as long as the Windows identifies it.
Note- In case you are connecting more than one device, then you should add one at a time. Moreover, you have to keep rebooting the machine with each addition.
Solution 3- Restore your PC with a System Restore
Restoring the device brings it to an earlier date when it was running all well. You can do this, directly from the startup repair Window.
Turn off the Computer.
Now, start the PC and keep pressing the 'F8' key until the startup screen appears.
Using the up/down arrow keys, go to the 'safe mode' option and hit 'Enter'.
Once the Windows login screen appears, choose an administrator user account and enter password (if any).
As soon as the desktop appears, press the 'Windows' key.
Type 'cmd' and then hit 'Enter'.
Type 'rstrui' in the command prompt Window and hit 'Enter'. The 'System Restore' screen appears.
Tap on 'next' then choose the last restore point that ran and then again click 'next'.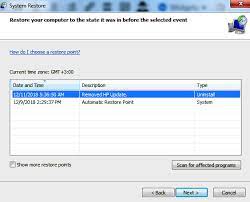 Tap on 'Finish'. After that the checkup process will begin and then PC will be restarted.
See if the problem still occurs.
Solution 4- Boot into Last Known Good Configuration (LKGC)
To fix Windows error recovery issue, you should try booting into LKGC. And to do this, just follow the below steps:
Restart your System
Keep pressing the 'F8' key until the 'advanced boot options' appears.
Opt for 'last known good configuration –advanced' and then hit 'Enter'.
See if the problem is resolved.
Solution 5- Recover the Windows 10 Computer
Recovering the PC may help you in getting rid of the threat. And to do the process, just go through the below steps:
Turn of the device.
Now, start it and keep pressing the 'F11' key continuously as soon as the 'choose an option' Window appears.
Under the 'choose an option' tab, click on 'troubleshoot'.
Tap on, 'Recovery manager'.
Tap on 'System recovery' under help to continue to recovery.
Solution 6- Perform a System scan
As we have already mentioned, the "Windows 10 error recovery" issue might also occur due to the presence of malware or virus in the infected PC. So, you need to scan the complete machine to remove all the perilous infections from the device. You can do this both manually as well as automatically. The "Manual" process requires much attention and you need to be highly skilled in computer or technology. So, we strongly recommend using "Automatic" procedure and for this purpose, you can use Advanced System Repair software.
Is Your PC Behaving Abnormal & Needs Instant Optimization?

We recommend you to choose Advanced System Repair Suite which is dedicated to offer complete options to optimize a PC, fix any Windows error, and remove malware threats in easy. The software is award winning and suggested as the best malware fix application supporting all Windows versions including XP/Vista/7/8/8.1/10. Just 3 steps to avail error free PC.
Advanced System Repair Tool and install on your PC. (Follow all on screen instructions when installer is executed)
Click "Scan Your PC" button to scan all present issues, errors, junk files, and malware threats.
Finally, click "Start Repair" to fix all detected problems in next few minutes.
Hopefully, one of these steps helped you in fixing "Windows 10 error recovery" issue. If you really liked the article or you have any other solution to get rid of the problem, just let us know. Write us on the comment section if you have any question or query.