If you have installed update of Windows Operating System on your computer and after that you are seeing Corel Videostudio not opening on your PCs, then you should try to solve this issue. At first, you need to check the program whether it is really working or not. This problem might occur on your machine due to several reasons. Don't be panics, please read this article carefully. I hope this article will help you to fix this trouble on your Windows 7/8/8.1/10 OS based PCs.
Details about Corel Videostudio software and its version:
Corel Videostudio is video editing software that gives more ways to captivate the audience. It entertains with creative videos features stop motion animation, time lapse effects and astonishing graphics. It is easy to create integrative videos with built-in-support for HTML5. It has numerous versions exist Ulead VideoStudio 10 plus, Corel Ulead Videostudio 11 plus, Corel Videostudio Pro X2, X3, X4, X5, X6, X7, X8, X9 and X10 with huge features. This application is used more than millions of user worldwide. Corel Videostudio Pro X10 is its latest version.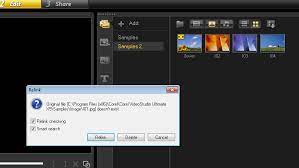 User's reports: Corel Videostudio X10 keeps crashing
 Many users have reported that there are several version of Corel Videostudio like X3, X4, X5, X6, X9 and X10 which are not opening on their System after downloading the updates of Windows 7 or other versions on their PCs. However, immediate solution to this problem has posted that remove Security updates KB3126587 and KB3126593 from PCs.
User asking question regarding this software & its versions issue:
Why Corel Videostudio X9 won't open after installed Windows 7 Update?
How to fix Corel Videostudio X5 won't open issue?
How to resolve or fix Corel Videostudio X10 keeps crashing issues?
Procedure to fix Corel Videostudio X10, X9, X5 and other versions not opening issue:
You need to download separate MUIHelper.dll and paste on drive location where Corel Videostudio file exits.
Step 1: Open "C:\program files\Corel Videostudio Pro X5" folder on computer and click on it to show all files
Step 2: Now, Find "MUIHelper.dll" file and rename it with "MUIHelper_old.dll"
Step 3: After that, download MUIHelper Zip
Step 4: Then unzip the downloaded file and simply copy & paste the MUIHelper.dll file into your program. Please check if the problem is resolved.
You may also read: Ways to test your computer monitor for flickering (Tutorial)
Conclusion
I hope this article helped you to fix Corel Videostudio not opening issue on your Windows 7 or other versions of Windows. You can follow the instruction carefully and fix this problem easily. If you are unable to solve this issue, then it might possible that you have installed malware or spyware accidently in your computer from various methods of bundling and social engineering that leads major damages in your computer. So, you can scan your computer with very strong antivirus software "Advanced system repair tool" which is capable to delete all junk files from System and fix this troubles as well.
Is Your PC Behaving Abnormal & Needs Instant Optimzation?

We recommend you to choose PC Repair Suite which is dedicated to offer complete options to optimize a PC, fix any Windows error, and remove malware threats in easy. The software is award winning and suggested as the best malware fix application supporting all Windows versions including XP/Vista/7/8/8.1/10. Just 3 steps to avail error free PC.
Download PC Repair Tool and install on your PC. (Follow all on screen instructions when installer is executed)
Click "Scan Your PC" button to scan all present issues, errors, junk files, and malware threats.
Finally, click "Start Repair" to fix all detected problems in next few minutes.