Fix Intel UHD Graphics 620 Driver Problem
Many Windows users reported about "Intel HD graphics 620 drivers not working" issue on various online platforms including Intel Support website and Microsoft Official forum site, and asked for the solution.
Users explained this problem occurs usually while upgraded their Windows to its latest version. However, this driver problem might occurs due to several reasons.
In this article, we are discussing about Intel UHD graphics 620 driver problem and providing some recommended methods to fix this issue. Let's starts the discussion.
Users explained that the secondary display was working until it got a Windows update. After the update, the external monitor no longer shows the display. They also report they the System was working but after drier update the System doesn't recognized the second monitor.
Reasons behind Intel HD graphics 620 drivers problem
Missing, outdated or incompatible Intel HD graphics 620 drivers cause this type of problem
Viruses or malware attack can cause several damages in System
Missing or corrupted Windows updates
[Tips & Tricks] How to Fix Intel HD graphics 620 drivers not working on Windows 10?
Procedure 1: Download Intel HD graphics 620 drivers
Step 1: At first, you need to go to "Intel Downloads Center"
Step 2: Type "Intel HD graphics 620 drivers" or "Intel UHD graphics 620 driver or 630 drivers into Search box which you want and hit "Enter" key
Step 3: Select the correct System versions like Windows 10 32-bit and Windows 10 64-bit
Step 4: In the same screen, you can identify the latest driver version according to "Date & Time". The first result will be the latest driver software
Step 5: Click on ".ZIP" or ".EXE" file to download the driver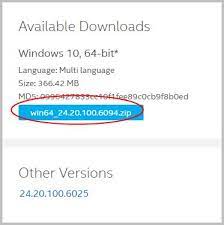 Step 6: Once downloaded, double-click on downloaded file to unzip or install and follow On-Screen instructions to finish the installation.
Step 7: Once installed, restart your computer and check if Intel graphic 620 problems is resolved.
Procedure 2: Update Intel UHD graphics 620 driver using Device Manager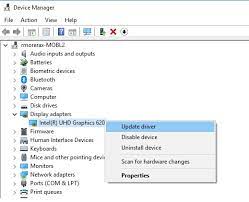 Step 1: Press "Windows + X" key from keyboard and select "Device Manager"
Step 2: Locate "Display Adapters" and expand it
Step 3: Right-click on your graphics driver and select "Update Driver Software"
Step 4: In the next Window, select "Search automatically for updated driver software". This process will automatically download/install the latest driver software in your machine
Step 5: Once done, restart your PC and please check if the problem is resolved.
Procedure 3: Contact System manufacturer
Best way to fix problem with Intel graphics driver is to contact for Manufacturer "Intel". If the issue persists even with the latest driver provided by your System manufacturer, contact your PC manufacturer via their Official support site to fix it.
When we talk about last report about this issue, you may also test with the latest Generic graphics driver from Intel Download Center website. This is a alternative driver and can be used only if the customized driver from original equipment manufacturer (OEM) has issues.
Procedure 4: Check for Windows update
Step 1: Go to "Settings App > Update and Security > Windows Update"
Step 2: Click on "Check for updates" under "Windows Update" section
Step 3: This process will automatically download/install the available Windows update on computer. Once updated, restart your computer and please check the problem is resolved.
You may also read: Fix Graphics Device Driver error code 43 on Windows 10
Conclusion
I am sure this article helped you to fix Intel HD graphics 620 drivers not working problem with easy methods. You can follow these steps to fix the problem.
If you are unable to fix this issue with the solutions mentioned above, then it might possible your System has malware or viruses related issue. In this case, you can Repair your PC with powerful PC Repair Tool/Software that has the ability to delete all types of malware or viruses, fix all types of bugs, remove faculty software and improve System performance
Is Your PC Behaving Abnormal & Needs Instant Optimzation?
We recommend you to choose Advanced System Repair Suite which is dedicated to offer complete options to optimize a PC, fix any Windows error, and remove malware threats in easy. The software is award winning and suggested as the best malware fix application supporting all Windows versions including XP/Vista/7/8/8.1/10. Just 3 steps to avail error free PC.
Download Advanced System Repair and install on your PC. (Follow all on screen instructions when installer is executed)
Click "Scan Your PC" button to scan all present issues, errors, junk files, and malware threats.
Finally, click "Start Repair" to fix all detected problems in next few minutes.