Are you regularly getting irritated by the unknown callers which usually turn out to be a spammer, telemarketer and so on? Are you wondering how to block no caller id on iPhone? Unknown calls on iPhone are labeled as Private or Anonymous and it is possible to block these unknown callers.
In USA, the "Federal Communication Commission (FCC)" has allowed No Caller IDs for citizens. Many of the users don't want to reveal their number intentionally as they could have privacy concerns and hence No Caller ID option is very favorable for them.        However, Telemarketers and spammers are also taking its advantage because this helps them in spamming or manipulating the innocent users without revealing their real identity.
For you, there is no need to worry any more. Thankfully, you can block specific number or caller on your iPhone and there are multiple methods to achieve this goal.
Through "Do Not Disturb Option"
You can block no caller ID using Do Not Disturb Mode in any version of iPhone including iPhone 11 series, iPhone X series or any other previous versions. With the help of this mode, you can silence calls. Here are the steps.
Go to Settings > Choose Do Not Disturb
Press on Manual and then turn on "Do Not Disturb". A moon icon will be displayed on the status bar then after
Next is to tap on "All Calls" from "All Contacts" option
This way, all calls from callers who are not in your contact list will be blocked. The "No Caller ID" calls will be automatically silenced as they are not in your address book.
Important Note: This option doesn't completely block the incoming No callers Id calls. Rather it silences the caller tunes of such calls. You can still see the incoming numbers on the display and they also get saved in the missed calls section.
Using "Contacts"
Create a new contact and name it as "No Caller ID". Follow the below steps.
Launch the iPhone app and choose "Contacts"
Tap on + button and save the number as 000-000-00000 and tap "Done"
Scroll down further and tap on "block" this caller. A pop-up appears on the screen revealing "You will not receive phone calls, messages, or FaceTime from people on block list". You can tap "Block Contact".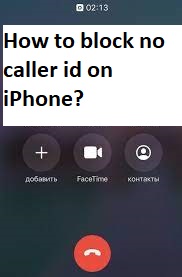 Important Note: Many of the users on Online forums have said that this method is not working for them. You can give a try to this method but there is no guarantee that it will work 100%.
Block No Caller ID Calls through Cellphone Services
The cellular carriers offer features to block spam calls. Here you can know how
Some carriers don't offer this kind of features. (For eg. Sprint). So you can confirm with your carrier provider regarding this feature.