Windows Operating system has been the choice of users for a long a long time due to its versatility and customization. But it has always been plagued with issues and bugs. Now many users are reporting Windows update error you're not up to date issue while trying to update their system.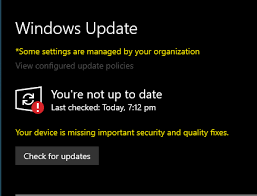 There are several reasons why this error is happening in the first place but it cannot be pinpointed. Therefore, we have listed all the possible fixes and workarounds that you use and try to fix this error.
Method 1: Run Troubleshooter for Windows Update
The most basic fix you try is troubleshooting using Windows built-in tool. To do so, follow these steps:
Open Windows Settings option by either opening from the Start menu or pressing Win + I key on the keyboard simultaneously.
Go to Update & Security.
From left menu, select
Now, click Additional Troubleshooters.
Click Windows Update and select Run the troubleshooter.
Follow the on-screen instructions and wait for the process to complete.
Check for Windows update and see if the error has been resolved.
Method 2: Reinstall the Recent Security Updates
Another reason for the error message to happen is broken previous update. To fix this you need to manually uninstall and reinstall the last security update. If this has been the reason, then the error will be fixed and you will be able to update your operating system. Follow these steps to do so:
In Windows Search bar type "update history" and press enter.
From best results, click on View your Update history.
You will now be able see all the recent history of security and quality updates here.
Now select the most recent installed update and right click then Uninstall Updates.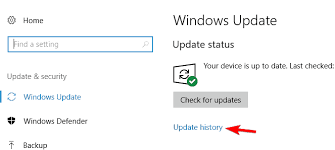 After the update is removed, restart your computer.
Method 3: Reset Windows Update by Command Prompt
Restarting Windows Update Service by command prompt is an effective way to try and fix the issue.
Right-click on Start menu and select Command Prompt (Admin).
Click Ok if UAC (User Account Control) pop-up.
Type the following command and press Enter after each command also wait for each process to complete before moving to next one
net stop wuauserv
net stop cryptSvc
net stop bits
net stop msiserver
ren C:\Windows\SoftwareDistribution SoftwareDistribution.old
ren C:\Windows\System32\catroot2 catroot2.old
net start wuauserv
net start cryptSvc
net start msiserver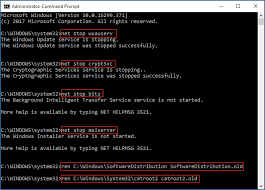 After the completion of the process, restart you computer to save the changes you have made.
Method 4: Enable Telemetry Setting in Windows
Microsoft Compatibility Telemetry collects data on how your system software and computer is running and sends it to Microsoft. If the settings are set to Security only then, some update might not be able to deliver and cause you this issue. To change Telemetry Settings, follow these instructions below:
Open Run dialogue box and enter gpedit.
Click OK to open Local Group Policy Editor.
Navigate to Computer >> Administrative Templates >> Windows Components >> Data Collection and Preview Builds.
Double click on Allow Telemetry.
Select Enabled and change the level beside "0" "Security".
To save the changes, click Apply then Ok.
Method 5: Run System File Checker
Corrupted system file could be the reason behind you net getting the system update. Using SFC or System File Checker command line tool, you can find and fix the issue on surface level. To run the command line, do these simple steps:
In Windows Search bar, type cmd and press Enter.
Now from best results right-click on command prompt and select Run as administrator.
Type sfc /scannow and press Enter.
Wait till the process is over.
Reboot your computer after it is done.
Even though SFC command line is good but it cannot detect the missing dlls and damaged registries. Therefore we recommend you to use a tool dedicated tool for the purpose. Our Advance System Repair Tool not only find the issue throughout the system but resolve them automatically using is advanced logic and complex algorithms.
Conclusion
If you are one of those unfortunate users that have Windows update error you're not up to date then don't worry, we got you covered. Above are all the possible fixes and methods that you can follow and fix the issue through these simple steps and instructions.