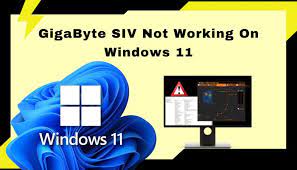 GigaByte System Information Viewer (SIV) is a utility tool provided by the company to view information about hardware statistics and current system status such as voltage and frequency of the CPU and others.  This tool is also used for manually controlling and adjusting fan speed, calibrate them as well as synchronize all system fans. SIV tool can create system behavior alerts which are used to monitor the health of hardware installed.
Some users have reported their GigaByte SIV Not Working on Windows 11 and they are unable to access the functionalities of it. There are multiple reasons behind this issue and one of them is because of old C++ visual retribution installed on their computer. Beside this, if SIV is installed before GigaByte app center then it will not show fan information. And it can also happen because of a bug or glitches within Windows Operating System.
How to Fix GigaByte SIV Issue
As we said there are multiple reasons behind the issue therefore there are various fixes to tackle the problem. For that reason, we have mentioned all the fixes and workaround possible in the article below:
Fix 1: Perform Clean Reboot
Temporary bugs and glitches within system create issue in proper working of the tool and this might be the reason behind this issue as well. Therefore to resolve the issue perform a clean boot of your computer by following these steps:
Close all the background and foreground processes and applications.
Now shut down your computer system.
Remove the plug from the power supply and let it sit idle for couple of minutes.
Put the plug back into the power supply and boot your computer.
After the boot, open the tool and check if the issue persists.
Fix 2: Clear SIV Cache Data
Another reason why this could be happening is because of false arrangement of cache files or due to them getting corrupted. Deleting cache file is not something complex or serious but it can delete your previous history and you might have to start new. To do so follow these instructions:
Open Windows Settings app by pressing Win + I key simultaneously.
Navigate to System settings then open Storage.
Now move to Temporary files.
Tick on the option according to your preference including temporary internet files.
After that click on remove File option.
Now choose Continue to delete the files.
After deletion, open SIV tool once again and check for the issue.
Fix 3: Reset SIV
Resetting is another method that could possible fix your issue, but user saved preferences and history will be lost in the process. To reset SIV follow these steps:
Note – This step include Registry Editor and making modification to its keys therefore it's highly recommended that you make a backup in case if anything goes wrong. Improper modification can cause serious system instabilities and can even brick your system, so proceed with caution.
Open RUN dialogue box by pressing Win + R key at the same time.
Type regedit and press OK button.
In registry editor, navigate to following location:
HKEY_LOCAL_MACHINE\Software\WOW6432\Gigabyte\ThermalConsole
Now delete everything in that key.
Close Registry Editor and reboot your computer.
Open the tool app and check if it works.
Fix 4: Re-install SIV
If none of the above fixes helped them the final option left with you is to completely re-install the SIV application in Windows Safe mode. To do so follow these steps:
Close all application and restart your computer system.
At login screen, press and hold Shift + Power button
Now move to Troubleshoot then advanced
Find and select Startup Settings and click on Restart.
Once the computer restarts, press the F5 function key rapidly.
You will now be boot in Safe Mode.
Uninstall SIV from your computer in safe mode then restart your computer normally.
Install Gigabyte App Center first then install SIV.
Open the app and check if the issue persists.
Conclusion
System Information viewer is a very essential tool for every user because not only you can check your stats and usage but also control the fans to regulate your thermals. However if you are one of those user who is facing GigaByte SIV Not Working on Windows 11 issue then follow the fixes with their instructions mentioned above.