B5023775 is now available in Windows insider previews for Windows 11 but many are facing troubles to install it. Here in this article we will discuss about KB5023775 and the difficulties which users face while installing this update on Windows 11 PC.
What is KB5023775 and what it offers?  (Important Points)
 Microsoft has released builds 22621.1465 and 22624.1465 (KB5023775) to the Beta Channel for Windows 11 Insiders. This update is bit different from other Windows Update as it is for Windows 11 Insider Preview. This is a good initiative by the developers to enhance the user's experience. As per this Insider Program, users can test out new features & updates before they are released publicly. Users can join this program free cost if they fulfill the eligibility criteria. This program is quite fascinating for those who are tech enthusiasts. So that they can test the new features and provide feedback to Microsoft.
Like other Windows Update this update also matters a lot to the users as it includes updated touch keyboard settings, live captions in more languages and so on. After installing this update on your Windows PC you will definitely get a new experience. But installing this update on Windows is quite challenging because to install this update you must have intact file system, stable internet connection and you need to ensure that you don't have any conflicting apps installed on your PC otherwise you will be unable to install the update flawlessly.
Can't Install KB5023775? (Possible Reasons)
 There are a variety of reasons due to which users are unable to install KB5023775 update. We have collected some potential culprits:
 #1. Corrupted System Files: You are likely to stuck in the current situation of you have corrupted system files. There are several reasons due to which files get damaged.
#2. Conflicting Software: Sometimes it happens when the apps installed on your PC starts conflicting with the update files and prevent them from downloading.
 #3. Lack of Space on the disk: If you don't have adequate space on your disk, it may also prevent you from installing the update.
#4. Issues with the Windows Update Services: Troubles in the Windows Update Services are also a major reason.
Try these fixes for resolving KB5023775 installation failure?
Method 1: Reboot your PC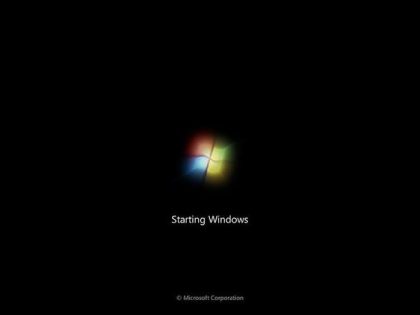 Rebooting your PC is an effective way to deal with the installation failure. Restating the PC will remove minor glitches from your computer. So before proceeding with the complex methods, it is suggested to restart your machine.
Method 2: Check your Network Connectivity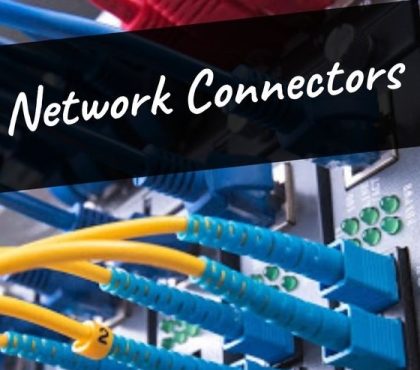 Fast internet is required while installing Windows Update. So make sure you have a stable internet connection. In order to strengthen your internet connection you can reboot your router to get seamless internet connectivity. Additionally we also suggest you to conduct a speed test to check your internet speed. If you found that your internet speed is not adequate then you can switch to another network.
Method 3: Turn off or uninstall third party security software
You are likely to face the above mention situation due to third party software such as Antivirus. This third party security software acts as a barrier while trying to download new files in the PC. The security software is proposed in such a way that whenever we try to install new files in our PC. These files get routed through this software. So sometimes the app categorize these files as suspected and hence the users get stuck while installing updates or any other files on their PC. So in order to deal with this it is recommended to turn off the Antivirus software temporarily. If you can't find the option for disabling the app then in such case uninstall the application for some time.
Note: Make sure to turn on/ reinstall the Security Software to prevent your PC from malware attacks.
Method 4: Run Windows Update Troubleshooter
Windows offers several troubleshooters tools which are quite effective in resolving various Windows issues and errors. In this section we are talking about Windows Update Troubleshooter. Running this built-in tool might resolve your trouble, to do the same follow the below mention guidelines:
Step 1: Open Settings using Windows + I keys & navigate to the Update & Security section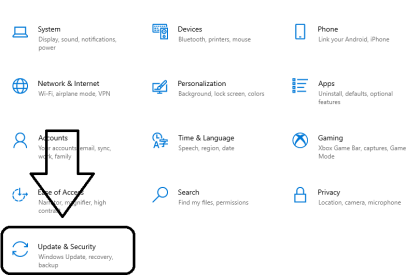 Step 2: Now on the right side of the Window, tap Troubleshoot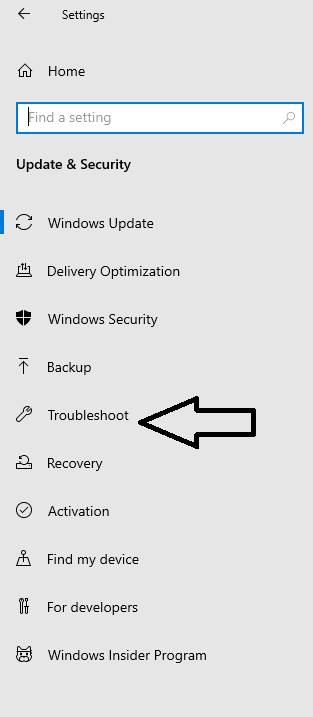 Step 3: Under Troubleshooter, select and tap on Additional Troubleshooters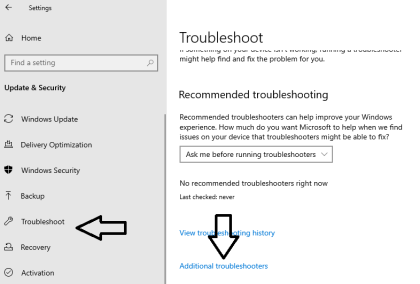 Step 4: After that Choose Windows Update and click on it>after clicking you will get "Run the Troubleshooter" button tap on it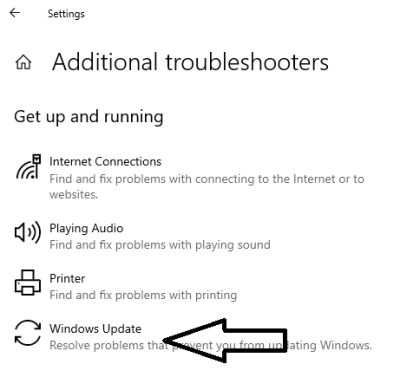 Once done then Restart your PC and see of the issue resolved or not.
Method 5: Reset Windows Update Components
Resetting the Windows Update Components is also an effective measure to get past the troubles while installing KB5023775 updates.
Here's how:
Step 1: In the Windows search bar, type in cmd to open the Command Prompt, once you open the Command Prompt, run it as an Administrator
Note: If you are prompted by UAC then press Yes  
Step 2: Once the command Prompt appears copy and paste the following commands and press Enter key after each of the commands:
net stop bits

net stop wuauserv

net stop appidsvc
net stop cryptsvc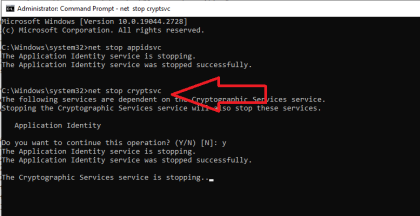 Del "%ALLUSERSPROFILE%\Application Data\Microsoft\Network\Downloader\*.*"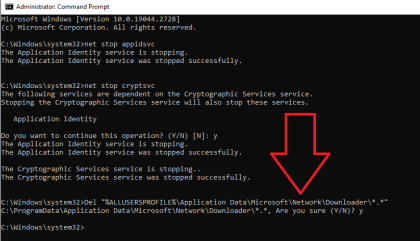 rmdir %systemroot%\SoftwareDistribution /S /Q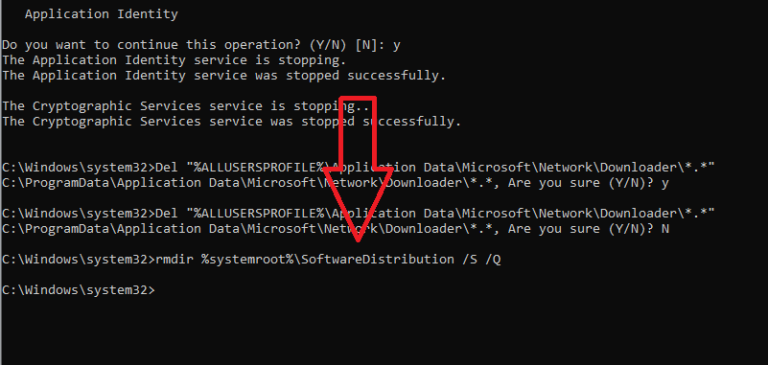 rmdir %systemroot%\system32\catroot2 /S /Q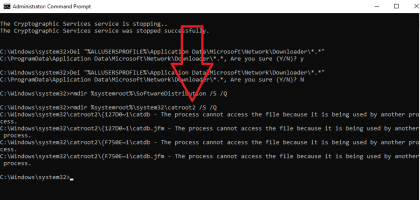 regsvr32.exe /s atl.dll
regsvr32.exe /s urlmon.dll
regsvr32.exe /s mshtml.dll
netsh winsock reset
netsh winsock reset proxy
net start bits
net start wuauserv
net start appidsvc
net start cryptsvc
Step 3: Finally Restart your PC
Method 6: Check your disk
If you are facing the situation due to disk malfunctioning then you can run the following command to check the disk errors, to do the same follow the below mention steps:
Step 1: Type in cmd in the search bar to open Command Prompt and then use the following command and press Enter key:
chkdsk c: /f

Note: If you are using an SSD, use the following command instead
chkdsk c: /f /r /x
Step 2: Reboot your System
Method 7: Perform in-place upgrade
If you have connected unnecessary peripherals then disconnect all of them except keyboard and mouse and then follow the below mention guidelines:
Step 1: Go to the Official Microsoft Website & download Windows Installation Media> double-click the installer and choose Yes when prompted by UAC
Step 2: Then Agree to the terms and tap on Next >Select Upgrade this PC Now and select Next
Step 3: Windows will not download all the necessary files- it might take some time> then Agree to the terms once again and tap Next
Step 4: Before installing, make sure you are happy with your choices (otherwise, you can tap the change what to keep option)
Step 5: Finally click Install to start the upgrade process.
Method 8: RUN SFC and DISM Tools
In order to tackle the corrupted files of your PC, you can run Windows built-in utility tool to repair corrupted system files. Running the SFC and DISM Scan has a potential to tackle the corrupted files. To proceed with the method follow the below mention steps:
Step 1: On the Start button, type in cmd in Windows Search> right-click on Command Prompt and choose Run as Administrator
Click Yes when promoted by UAC
Step 2: Once you get prompted by Command Prompt, type in sfc/scannow and press Enter key
Once you have executed the above mentioned command, the use the following commands to run DISM Scan and don't forget to press Enter key after each command.
DISM /Online /Cleanup-Image /CheckHealth
DISM /Online /Cleanup-Image /ScanHealth
DISM /Online /Cleanup-Image /RestoreHealth
Step 3: Finally Restart your device
Alternatively, you can also go for an Automatic PC Repair Tool, if you lack time, patience and skills. This professional tool will thoroughly scan your files in order to repair them. This tool has a potential to deal with any sort of Windows issues and errors. And if you don't want to go for manual process you can totally rely on this tool to resolve the current situation.
That's all folks! We have tried to provide all the relevant and effective solutions if you fail to install KB5023775 update. Apart from manual solutions we have also recommended a professional tool. In case if you don't want to struggle with manual process, simply go for the repair tool.