Introduction
Onedrive is a valuable cloud storage service integrated into Windows 10, allowing users to store and sync their files across devices. However, like any software, it can encounter issues, and one common problem is the Onedrive Sign-In Error 0x8004deb4. In this article, we'll delve into the potential reasons behind this error, discuss common error codes, and provide solutions to resolve the specific issue of Onedrive Sign-In Error 0x8004deb4 in Windows 10.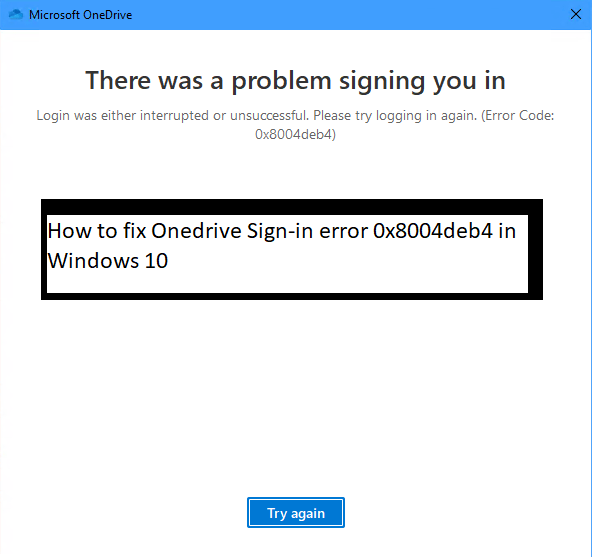 Possible Reasons for Onedrive Sign-In Error
Several factors can trigger sign-in errors in Onedrive. Understanding these can help pinpoint the root cause of the problem:
Network Connection Issues:
Poor or unstable internet connections can disrupt the sign-in process, leading to errors.
Outdated Onedrive App:
Running an outdated version of Onedrive may result in sign-in problems.
Corrupted Onedrive Files:
Corrupted Onedrive files or settings can prevent successful sign-ins.
Authentication Problems:
Issues with Microsoft account authentication can also cause sign-in errors.
Common Error Codes
Before we address Onedrive Sign-In Error , it's essential to understand common error codes you might encounter when dealing with Onedrive issues:
Error 0x8004deb4:
This specific error code often appears when there's a problem with the Onedrive sign-in process.
Error 0x8004de40:
This code usually indicates an issue with syncing Onedrive files.
Error 0x80070005:
This error suggests that there's a permissions problem preventing Onedrive from accessing or syncing files.
Ways to Fix Onedrive Sign-In Error 0x8004deb4 in Windows 10
Now, let's explore the various methods to resolve Onedrive Sign-In Error 0x8004deb4:
Check Internet Connection:
Ensure you have a stable and active internet connection. If your connection is unreliable, Onedrive might fail to sign in.
Update Onedrive:
Make sure you are using the latest version of Onedrive. Check for updates through the Microsoft Store or the official Onedrive website.
Reset Onedrive:
Resetting Onedrive can resolve sign-in issues. To do this, right-click the Onedrive icon in the system tray, select "Settings," go to the "Account" tab, and click "Unlink this PC." Then, relink your PC to Onedrive.
Clear Onedrive Cache:
Sometimes, clearing the Onedrive cache can help. Press Win + R, type "%localappdata%\Microsoft\Onedrive\onedrive.exe /reset," and hit Enter.
Check Windows Credentials:
Verify your Windows credentials by going to Settings > Accounts > Access work or school. Ensure that your Microsoft account is listed and connected.
Run Onedrive Troubleshooter:
Windows 10 includes a built-in troubleshooter for Onedrive. Go to Settings > Update & Security > Troubleshoot > Additional troubleshooters. Find and run the Onedrive troubleshooter.
Conclusion
Onedrive Sign-In Error 0x8004deb4 can be frustrating, but it's usually solvable with some troubleshooting. By checking your internet connection, updating Onedrive, resetting it if necessary, clearing the cache, verifying Windows credentials, and using the built-in troubleshooter, you can often resolve the issue and regain access to your cloud storage. Remember to keep your Onedrive app up to date to minimize the chances of encountering such errors in the future.