Easy Steps To Disable Windows 10 Services To Improve Performance Of Win 10 PC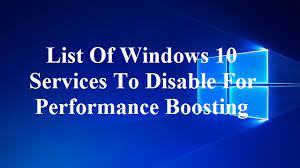 Windows operating system is one of the well organized OS since a long time, and Windows 10 is the latest version of it with a lot of improvements and modifications. This is mostly considered as easy to operate and fast system software in compare to its own predecessor Windows 8.1. You might also be relied on this system software and somehow facing some performance issues after using the OS for long time. This is expected but still some solutions which you can try. In this article, we are going to discuss about some unused Windows 10 services to disable for performance boost up in a few minutes.
Why Windows 10 starts to perform slow and lagging?
This question is very common to strike a mind of offcourse all PC users running Windows 10. But, its answer is quite simple because the OS Win 10 is one of the most widely used system software loaded with tons of functions, features and processes running to support user's needs. So, after being used for a long term, it gets loaded with a number of cache files, temporary files, and many more. Even a number of installed programs eats up system resources to cause the system runing slower. In such such cases, the system resources remains constant, but the usability increases day by day.
Although temporary files can be deleted easily through some reliable utility software, but still problems like lagging or sluggish performance never gets easily vanished. In such cases, a user can choose to disable Windows 10 services to improve performance, and they must need to disable only those processes or services which are useless but sucks system resources all the time.
What is Windows services in Windows OS?
In terms of Windows based operating systems, Windows Services are basically executable programs which keeps running in background and run their own functions. Although some of services are very necessary to assure Windows OS running properly, some also runs along with them but just to support some specific functions which are not required all times. Even some software also adds their own essential services to execute the software properly. So, in all these services, you have to choose those Windows 10 service to disable for performance boosting, which are not necessarily required, and disabling them will not affect your necessary PC functions too.
How de-activating Windows 10 services help to improve performance?
Since executable file when runs in Windows, they eat up some resources and memory to run their functions. In case of services, they also eat such system resources which kept being used unless they are terminated. Means, if such windows services that are running of no use, if disabled then free up resources that can be further used by other required programs by you. Thus, deactivating useless Windows services help boosting overall system performance easily. But, before you choose any service to disable, you must make sure it's useless and disabling them will not cause any problem to your operating system, because there are many core Windows services which are primarily required.
So, let's see now what possible Windows 10 services to disable for performance boost up. Here comes the list.
1. Fax service

2. Diagnostic Policy service

3. Security center

4. Print spooler

5. Application experience

6. Secondary logon

7. Program compatibility assistant

8. Portable device enumerator

9. Offline files

10. Windows Image Acquisition

11. Windows Connect Now
1: Disable Fax Service
Fax service in Windows is basically an essential service to connect fax system through computer, however in most of the cases, it seems like useless service for users but still sucks PC resources at its level. Disabling this service might help you enhancing your system performance. To do so, get through the steps here.
1. Navigate to Control Panel > Programs and features

2. Click on Turn Windows Features on or off on the left side panel

3. Locate the Print and Document services

4. Click the option to expand it and remove check mark from checkbox beside Windows Fax and Scan

5. Click OK button
2. Disable Diagnostic Policy Service
According to some users, this Windows service also use a high number of CPU resources to perform its functions, however it still not a very necessary service. Thus, it can also be placed under Windows 10 services to disable for performance boost up. Here the steps are to do so:
1. Press Win + R key combined and type services.msc to open Services window

2. Scroll down to find Diagnostic Policy Service

3. Right click on selected option and click Disable option
3. Security Center
Although it's a component of Windows operating system that Microsoft has included in Windows XP and Vista as well, but still it's not much helpful rather to eat up resources. So, disabling this will not going to harm your system efficiency. Here's the steps you should follow to disable it.
1. Open Services window by hitting Win + R

2. Find and select Security Center

3. Right click on selection and choose Disable
4. Print Spooler
In Windows operating system, this service acts like a manager for all printing jobs. If you often use printing devices then you should not disable this service as your printer will stop working, otherwise here the steps are to disable it.
1. Click on Start button and select Computer Management option

2. Select services in the left panel of opened window

3. Scroll down in Services window to find Print Spooler

4. Right click to choose Disable
5: Application Experience
This service was first introduces in Windows Server 2003 Service Pack 1 and is still available in Windows OS versions including Win10. One can disable this service as it's not mostly required, for which the steps are here mentioned.
1. Hit Win + R and type services.msc

2. Locate Application Experience Service in opened window

3. Right click on selected option and choose Disable
6. Secondary Logon
This service is basically required to allow users logon to other non administrative accounts on Windows. If you are not such a fonder, seek to disable this service to improve your Windows performance.
1. Hit Win + R combined to open Run command box and type services.msc

2. Find Secondary Logon Service and choose to disable after clicking Right mouse button
7: Program Compatibility Assistant Services
1. Follow same steps as mentioned above to open Services panel

2. Find Program Compatibility Assistant service and select it

3. Right click on selection and choose properties, there you would find option to keep this service Disabled.
8: Portable Device Enumerator
This service can also be placed under Windows 10 services to disable for performance enhancement if you seek not frequently to connect portable devices for data transfer. Also, this service helps users to enable some applications like Windows Media Player. So, if you require to disable it, you can do so with the guidelines here prescribed.
1. Open Services window

2. Locate Portable Device Enumerator service

3. Right click on selected service and choose properties

4. Choose Disabled as option where you see this program to act when Windows boots up

5. Click Ok
9: Offline Files
This service is actually a default service in Windows operating system whch is used for maintenance related activities. If you doesn't require this service often, you can seek it to be disabled. Just follow same instructions as mentioned in above guidelines, but select Offline Files service to disable it.
10. Windows Image Acquisition
This service in Windows 10 allows user to enable image and graphics related applications t regulate interaction between different apps and scanners. Well, this can be useful for those users who use scanner devices with system, otherwise running this service just eats up system resources. To seek enhancement to your system performance this service can be turned off as well, for which the steps are simply, just get through services.msc panel and locate this service followed be setting it as Disabled in its properties.
11: Windows Connect Now
Windows Connect Now or WCN is also a helpful feature for the network access points and many other devices like printers, cameras, etc for connecting and exchanging services. Means, if you are not using this service frequently for your personal use, you can seek its termination as well for which the steps are similar as followed in above contexts.
Expert's Recommended Way To Optimize PC and Enhance Windows Performance
If you have already managed services, still your system performance sucks, then you can choose a powerful utility software that will optimize your system and all its applications to deliver the best performance. To do so, we highly suggest you choosing Reimage PC Repair app that is really great and award winning solution. It includes so many features that you will love to have your PC protected against all problems automatically.
Note: If you ever find any disabled service is required for your specific need, you can re-enable them once again, and that's very easy. Just select desired service in Services panel and choose its properties, then set it as Enabled. The desired services will be working once again.
(We hope you really enjoyed reading this article regarding Windows 10 services to disable for performance boost up without a mess. Do share this article to your friends or relatives to help them being a technical geek. Subscribe Us to be updated about all our latest articles.)