In previous article, we have already discussed on 'Qualcomm Snapdragon 480 5g Vs MediaTek Helio G90T Comparison' and tried to know which processor is better in terms of CPU, GPU, performance, AI engine, camera support, RAM & storage and connectivity options. You can read complete article using above link.
In this post, we are going to discuss on 'Qualcomm Snapdragon 480 5G Vs MediaTek Helio G95 Comparison' and trying to know which one is better SoC (System-on-Chip). Qualcomm Snapdragon 480 is recently launched chipset by Qualcomm Company, in Snapdragon 400-series in budget segment with 5G network support. It includes the use of 2x Cortex-A76 cores as its main performance CPUs as a very large jump in the 400-series of Qualcomm Snapdragon brand.
On other hand, MediaTek helio G95 chipset has MediaTek HyperEngine Gaming Technology provides you fast and smooth action in your favorite games through whole-device improvements. According to Antutu benchmarking platform, MediaTek Helio G95 has 5$% improved CPU and up to 8% enhanced GPU compared to MediaTek Helio G90T. Let's start the discussion on 'MediaTek Helio G95 Vs Qualcomm Snapdragon 480 5G Comparison' in details.
Qualcomm Snapdragon 480 5G Vs MediaTek Helio G95 SoC Comparison
On the basis of CPU: Both SD480 and Helio G95 are octa-core processor. Qualcomm Snapdragon 480 chipset has 2x Cortex-A76 @ 2.0GHz and 6x Cortex-A55 @ 1.8GHz, while MediaTek Helio g95 processor has 2x 2.05 GHz – Cortex-A76 and 6x 2 GHz – Cortex-A55.
On the basis of GPU: Snapdragon 480 5G SoC has Adreno 619 GPU and MediaTek Helio g95 SoC has Mali-G76 3EEMC4 GPU. Qualcomm Company says, with new Adreno 619 GPU, SD 480 offers up to 10% better graphics rendering performance compare to previous chipset version. MediaTek helio G95 is build on 8nm Process Technology while Snapdragon 480 is 8nm LPP chipset.
On the basis of AI Engine: Focuses on performance & improvements, Qualcomm released Snapdragon 480 processor with Qualcomm Hexagon 686 DSP AI Engine, which offers 20% improved in AI performance for things like AI-based camera functionality or voice translation features. On other hand, MediaTek Helio G95 SoC has 'Da Vinci' Neural Processor AI engine with 4K video capture at frame rate 30fps.
RAM & Storage: Snapdragon 480 5G powered devices can support up to 17GB LPDDR4x RAM while the mobile phones powered by MediaTek Helio G95 processor can support up to 10GB LPDDR4x RAM.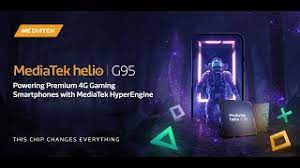 Camera support: Qualcomm Snapdragon 480 processor uses Qualcomm Spectra 345 Image Signal Processor (ISP) that can support up to 64MP single camera, 25MP + 13MP dual camera and 13MP triple camera, while MediaTek helio G95 processor has 1x 64MP single camera and 2x 24MP dual camera with 4k video capture frame rate of 30fps.
Connectivity options: The most attractive feature in Snapdragon 480 processor is to support for 5G connectivity while MediaTek helio G95 offers only LTE network connectivity support. So in terms of 5G modem, Qualcomm Snapdragon 480 is winner which uses Qualcomm Snapdragon X51 Modem–RF System for 5G connectivity option.
On other hand, SD480 SoC supports WIFI 6, Bluetooth 5.1, mmWave + Sub-6GHz, NFC, GPS with Quick Charge 4+ technology. MediaTek Helio G95 processor has Bluetooth 5.0, WiFi 5, NFS and GPS.
Mobile Phones powered by MediaTek helio G95  Processor:
Realme Narzo 20 Pro
Realme 7
Mobile Phones powered by Qualcomm Snapdragon 480 Processor:
Smartphones powered by SD480 processor are expected to be announced shortly. Vivo and Oppo are expected to be among the first OEMs to release phones with this powerful chipset.
Conclusion
For the above discussion, it is cleared that Snapdragon 480 is better Soc for gaming and you can play modern games like PUBG in HDR. This chipset has improved CPU, GPU, AI engine and 5G connectivity supports compared to MediaTek Helio G95 processor.
Due to better configuration and architecture especially 5G connectivity options, we can say that Snapdragon 480 is better processor. That's all. You can share your own opinion on 'Which one is better SoC?' on the comment box below.