AMD Catalyst Control Center is software part in AMD Catalyst Software package that provides video customization options to adjust display settings, display profiles and video performance. This software acts as central hub for all options and features associated with your AMD Graphics Card. It features display management, digital control, 3D enabling, color adjustment and overdriving. We will discuss about these features and options further in this article.
AMD Catalyst Control Center comes bundles with AMD Drivers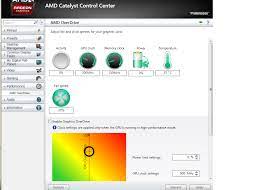 Upon successful installation of AMD drivers, "AMD Catalyst Control Center" should be appeared at top of 'Desktop Refresh Menu' or in notification area in taskbar. It means you can easily access this application in your Windows device by right-clicking on desktop and choose 'Catalyst Control Center' to open the application or you can also open it via taskbar. Moreover, this program can easily be seen in Task Manager of your computer as running process dubbed as 'CCC.exe'.
In other words, AMD Catalyst Control Center process automatically startup when you turn ON your computer. To manage your AMD Graphics Card's operation, this process/program runs automatically in background. With this tool, you can check for driver updates for your AMD Graphics Card and manage the display related operations. Catalyst Control Center Software offers you to do some basic changes in your computer's display settings including changing the resolution, or desktop area and the screen refresh rate.
You are also allowed to make changes in anti-aliasing settings within this tool and removing jagged edged from 3D objects, and more advanced settings are also offered this program to improve your gaming experience.
Features of AMD Catalyst Control Center (CCC.EXE)
3D Enabling: This feature is associated with video-games display settings that are included in CCC or Catalyst Control Center application. This option allows you to enable 3D display including several sub-categories of settings for improved display performance and quality like anti-aliasing, adaptive anti-aliasing, anisotropic filtering, Catalyst Artificial Intelligence and Display profiles.
Display Management: This feature offers you can manage multiple displays, screen resolutions and refresh rate.
Display Control: CCC or Catalyst Control Center application offers greater levels of customization and display performance improvements. This feature entails the modifications of image scaling, allowing for greater display of resolutions smaller than default screen size.
Color adjustment: This feature hoofers you can change display elements such as brightness, hue, contrast and more.
Overdriving: This feature in Catalyst Control Center (CCC.exe) is display version of overclocking, and creating a higher frame rate when sacrificing the brightness of individual pixels.
If you are unaware, these options for customization can be accessed without this tool means Microsoft Windows OS offers you to control some of these customizations. But for customization at high level, AMD Catalyst Control Center is one of the best tools for your AMD Graphics Card. As mentioned above, this tool offers you to use multiple monitors with varying resolutions and frame rates.
This software is also effective for gaming performance which offers various graphics customization settings to improve your gaming experience. It provides wide-range of customizations via 3D enabling including anti-aliasing, adaptive anti-aliasing, anisotropic filtering, Catalyst Artificial Intelligence and Display Profiles. Let's take have a look at these settings.
AMD Catalyst Control Center allows the enabling 3D Display
Anti-aliasing Setting: It is the most commonly used settings by gamers that enable displaying diagonal lines. Its standard settings include 2x, 4x, 8x and 16x aliasing only available for AMD graphics card with CrossFireX Setups. While many games offers this settings, but AMD Catalyst Control Center offers you to create universal display settings for all games means you will need to setup at once and will be applied for all games.
Adaptive anti-aliasing setting: This setting offers you to deal with transparent textures on in-game objects like leaves on tree or picket fences. Enabling this feature is just like anti-aliasing, smoothing out the textures for an increase in video quality.
Anisotropic Filtering setting: This setting prevents the 'Blur with a specialized texture filter System' that creates the sharper distant textures without any flickering, called 'Footprint Assembly'.
Catalyst Artificial Intelligent: This setting offers special Graphics Optimizations for each game. It allows you to create a faster gaming experience by lowering video quality settings as specified.
AMD Standard Settings or Profiles for each of 3D settings offered
High Performance, Optimal Performance, Balanced, High Quality and Optimal Quality are standard settings or profiles offered by AMD Company with 'AMD Catalyst Control Center' application that contained the preset combinations of settings for each of the 3D setting the AMD offered. The main motive of these profiles to improve your graphics performance by setting up to reduce overall display quality in favor of faster operation.
Conclusion
AMD Catalyst Control Center is software for customization in Graphics Card's settings to improve graphics & gaming experience. It is available for all Windows OS version including Windows 7, 8, 8.1, and for Linux and Mac OS X. This application will allow you to control your display settings for any modern AMD Radeon Graphics cards.
Since, this software is a part of AMD Radeon Graphics Card Driver so there is no need to download and install additionally. However, if Catalyst Control Center (CCC.exe) is missing or not detected, then you can download it from AMD's website. AMD offers the installation of this software free of charge. That's all. For any suggestions or queries, please write on comment box below.