As we all know that Instagram is one most famous online social networking platform that is mainly focuses on mobile photography. When we talk about the popularity, Instagram had crossed 1 million users in just 2 months after launch and 10 million users within months. Now, this social networking platform has currently surpassed 1 billion users mark and got most liked picture of all the time on Instagram with "The Egg" or "Instagram King" photo which get over 50 millions likes. Now comes to matter Instagram screenshot notification, it was the news of February 2018 when Instagram started notifying the users about someone taking a screenshot or screen recording their Instagram's story.
At that time, most of the users were mortified and annoyed regarding this change in policy. Further report, Instagram users had also received screenshot notification regarding the deployment of above feature in their story page. However, this feature was removed by Instagram due to negative response from its users.
Instagram send notification if you take screenshot of someone's picture
It is very recent report which states that Instagram will only notify you if someone screenshot or screen records of disappearing photo or video in your direct message. So, we can say that it will be private message at all from Instagram if someone screenshots your photo or video. Let's take a look at Instagram statement regarding Instagram screenshot notification matter.
After you send a disappearing photo or video to someone, you'll see the status of the message (example: Delivered, Opened, Replayed, Screenshot) as part of your conversation in Direct.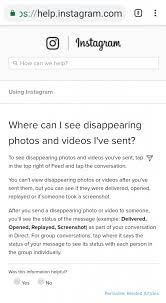 How to Bypass the Instagram screenshot notification feature?
For iOS users
If you are iPhone or iPad user, then you can turn on Airplane mode while you are in Instagram App. After that, you can screenshot the pictures required before having to uninstall the app. Finally, disable Airplane mode and re-install Instagram.
For Android users
It is little bit easier for Android users. At first, you have to activate Instagram Mode before you can screenshot the image. After that, you have to force stop Instagram the deed has been done.
Much easiest method
You can just start visiting Instagram on your mobile browser or your PC and may screenshot or screen record the required media via the Instagram website.
I hope this article helped you if you want to bypass the Instagram screenshot notification feature. We are researching on the matter very deeply and we will defiantly post an update, if it will come in future. For any suggestions or queries, please write on comment box given below.
You may also read: Samsung working on new foldable Wearable Smartphone